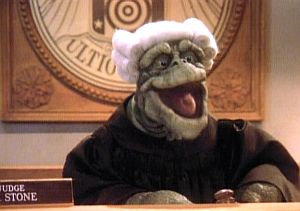 When given a school assignment to come up with an original idea, a panicked Charlene is visited by a Muse who mistakes her for Copernicus and tells her that the earth is round not flat. After giving her report, Charlene is arrested by the Police Classroom Squad and tried for heresy. Robbie tries to help by appealing to Mr. Pulman, but he, too, is arrested. After being found guilty, a confident Charlene asks that she and Robbie be thrown off the edge of the flat world as sentence, knowing its impossibility and proving her right.
Guest Stars
Notes
Taped on September 22, 1992
Video releases
Ad blocker interference detected!
Wikia is a free-to-use site that makes money from advertising. We have a modified experience for viewers using ad blockers

Wikia is not accessible if you've made further modifications. Remove the custom ad blocker rule(s) and the page will load as expected.