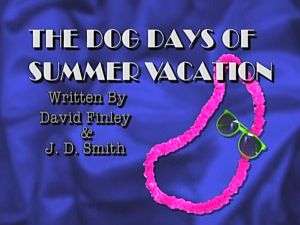 It's the summer and everyone is excited, about to disperse on their vacations. Eliot Shag, however, is stuck behind doing a show. So he sends Ace and Rosie on a vacation, accompanied by Eddie and Dot.
All the season regulars have cameos in this episode: the Woof Pack, Bugsy Vile and the Vile gang, Mr. Mookie, Baron Von Rottweiler, Leon, Yves, and Steven.
Ad blocker interference detected!
Wikia is a free-to-use site that makes money from advertising. We have a modified experience for viewers using ad blockers

Wikia is not accessible if you've made further modifications. Remove the custom ad blocker rule(s) and the page will load as expected.