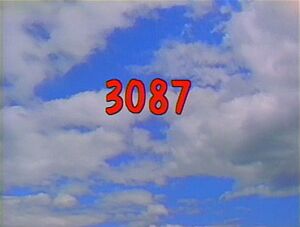 Picture
Segment
Description

SCENE 1
Savion, Lillian, Duane and the kids sing about the word "original".

Animation
Rubber Stamp #15
(First: Episode 2945)

Film
A girl narrates a film of herself taking care of her horse, Strawberry.
(EKA: Episode 2641)

Animation
Pencil box Y / y
(First: Episode 3043)

Muppets
"Barn in the USA"
(First: Episode 2991)

Cartoon
A cartoon shows a few Spanish words - which are also English words.
Artist: Fred Garbers
(First: Episode 3011)

Song
"Ja, Ja, That is the Mountain"
Artist: Jane Aaron
(First: Episode 2780)

SCENE 2
Roxie Marie rushes home to her Uncle Biff to tell him she did well on her math test. Biff reveals something he's working on that's number-related too. He brings out a birdhouse with one final nail unhammered, that needs to be hit exactly 15 times (Biff even made a note on the wall to remind himself). After he hits it the right number, Roxie wonders what happens if he hits it more than 15 times. He tries and the birdhouse collapses.

Cartoon
Abstract count to 15
(First: Episode 2851)




Muppets
Big Bird's Video Postcards
Big Bird visits a Puerto Rican casita in East Harlem. He tries to find out what people do there, but everyone is too busy feeding chickens, planting tomatoes, cooking, and planning music to answer.
(First: Episode 3018)

Cartoon
A boy puts a red and green monster together using a diagram.
(EKA: Episode 1105)

Muppets
Sesame Street News Flash
Kermit the Frog reports from an alphabet mine where they dig Js. The miners tell him various words that begin with J and Richard presents him with his own J.
(EKA: Episode 2612)

Song
"Around and Around"
(First: Episode 2753)

Cartoon
The Great Inventors Series: John Montague, Earl of Sandwich, invents a new type of food that can be eaten while playing cards.
Artist: Bruce Cayard
(EKA: Episode 2574)

SCENE 3
Duane has a blind girl identify shapes by feeling them.

Animation
Looking for shapes on the Aztec Calendar Stone (Maria voiceover)
(First: Episode 3049)

Muppets
"Body Rhythms" by Little Jerry and the Monotones.
(EKA: Episode 1322)

Film
Two boys walk though a city neighborhood to some funky break dancing music.
(EKA: Episode 2679)

Cartoon
Rumba pencils (first, last, Crazy Melvin)
(EKA: Episode 0666)

Muppets
Grover tries to demonstrate first and last by being first in line, but the other monsters keep switching on him.
(EKA: Episode 1613)

Cartoon
"Crocodile Smiles Song": A crocodile sings about good oral hygiene.
Artist: Michael Sporn
(EKA: Episode 2639)

SCENE 4
Merry Monster brings Herry to the right place so they can show Prairie Dawn how they sound alike. Prairie notes that their voices are distinctly different. But, it's their names they're referring to.

Cartoon
"What Do You Do With a Pet?"
(EKA: Episode 0811)

Cast / Celebrity
Wanda the Word Fairy introduces the viewer to her parents.
(EKA: Episode 2678)

Muppets
Ernie & Bert: Ernie and Bert explore an Egyptian pyramid. Bert is excited, but Ernie is afraid. They see statues that look like them. Bert decides to explore a tunnel while Ernie looks at the statues, and then the Ernie statue starts tapping and talking to Ernie. But when Ernie calls Bert back to the room, the statue doesn't move. Ernie is scared until the statue starts singing Rubber Duckie with him. Bert doesn't believe Ernie, until he says "Bye-bye, statue," and the statue replies "Bye-bye!" and laughs... just like Ernie.
(EKA: Episode 1706)

Cartoon
"Magic Pig Calypso Song"
Artist: Vince Collins
(EKA: Episode 0827)

Film
Kids narrate a film of how a river is formed.
(EKA: Episode 2756)

Animation
Planet Y / y
(First: Episode 2859)




SCENE 5
Lillian reads The Very Hungry Caterpillar by Eric Carle to the kids and The Count. The Count takes joy in counting the different foods the titular character eats.

Cartoon
Jerry Nelson sings "In My Book."
(First: Episode 2983)

Cast
Linda signs the word snow, and Gordon gets snowed on.
(EKA: Episode 2773)

Muppets
"Daddy Helps with the Dishes" - three families sing about how they help each other doing chores, cooking and homework. They all agree that when they all do it, "It soon gets done!"
(EKA: Episode 2223)

Cartoon
The Typewriter: J for jump
Artist: Jeff Hale
(EKA: Episode 1957)
Song
"Me and My Chair"
(First: Episode 1706)
Cartoon
Shorty reaches a water fountain with a stool.
(EKA: Episode 0984)




SCENE 6
Savion teaches Lillian and the kids some more "original" dances moves, while Duane looks on. Lillian then announces the sponsors.