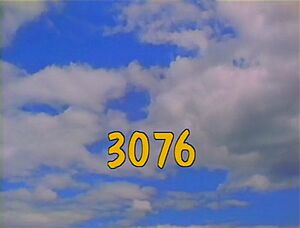 Picture
Segment
Description

COLD OPEN
Maria and Luis work at the Fix-it Shop, when all of a sudden they hear sirens. Just then, all the king's horses and all the king's men enter with a box containing the remains of a broken Humpty Dumpty, and request that he be fixed.




SCENE 1
Humpty Dumpty, having been fixed, decides to sit on a trash can instead of a wall, thinking he'll be safer if he does. Telly tries to warn him that it's Oscar's can, which is not a safe place to sit. Oscar opens his lid, and Humpty Dumpty falls off and shatters. All the king's horses and men come to pick up the pieces and take him back to the Fix-it Shop.

Song
"Would You Like to Go Over?"

Cartoon
"L" for "Large" and "l" for "little"
(EKA: Episode 1576)

Muppets
"Let's All Exercise"
(EKA: Episode 2797)

Cartoon
A peacock counts 20 feathers on his tail.
(EKA: Episode 0406)

Film
A girl narrates a film of how pan dulce, Mexican bread, is made.

Cartoon
A dog tries desperately to meow, but can only bark.
(EKA: Episode 1952)

Cast
Gordon sings "I Heard My Dog Bark" as Susan, Bob, Uncle Wally, and some kids make the animal sounds.
(EKA: Episode 2258)

Cartoon
R for Rhinoceros (poem)
Artist: Jeff Hale
(EKA: Episode 1800)




Animation
Beads arrange themselves in different ways, and finally stick themselves to a boy's jacket.
(EKA: Episode 3045)

Muppets
"Cereal Girl"
(EKA: Episode 2687)

Cartoon
A girl imagines herself as a car that rescues fire victims.
(EKA: Episode 0598)

Song
Jerry Nelson sings "Don't Waste Water".
(EKA: Episode 2900)

Cartoon
Mother Nature shows how earthworms help trees grow.
Artist: ArtistMike
(EKA: Episode 2736)

SCENE 2
After being put back together yet again, Humpty Dumpty decides to sit on Big Bird's nest, thinking he'll be able to share it with Big Bird. However, Big Bird accidentally cracks him when he sits on him, and Telly directs the king's horses and men towards the broken egg.

Cartoon
Geronimo 10-0: instead of a parachute, she is carried to the ground by four birds.
(EKA: Episode 2423)

Film
Some kids have a bike race by the river.
(EKA: Episode 1443)

Cartoon
"The Noble Ostrich", a segment about the day-to-day activities of ostriches. Includes an animated appearance by Big Bird.
Artist: Bruce Cayard
(EKA: Episode 1056)

Muppets
Ernie and Bert: Ernie pretends to be a dog and a duck. Bert then pretends to be a train, and does it so well that a train conductor and passengers come through the apartment.
(EKA: Episode 0700)

Cartoon
The Bellhop is told that somebody at table 18 has a phone call, and after he struggles to get to the table, he is told to take a message.
(EKA: Episode 2639)

Muppets
"Readers of the Open Range"
(EKA: Episode 2274)

Cartoon
The Typewriter: R for Rope
Artist: Jeff Hale
(EKA: Episode 1800)




SCENE 3
Next, Humpty Dumpty decides to sit on a tuffet, like Little Miss Muffet. Unfortunately, he falls off and shatters when he sees a spider.

Cartoon
An elephant asks Nesbitt for directions to the zoo, but won't listen to him long enough.
Artist: Janet Perlman
(EKA: Episode 2794)

Song
Jeff Redd sings "Between".
(EKA: Episode 2822)

Cartoon
Number creatures 18
(EKA: Episode 2639)

Muppets
In song, a boy wanders into the Animal Lost and Found, looking for his pet named Homer. The shopkeeper says, "Describe Your Pet to Me".
(EKA: Episode 2967)

Cartoon
L for Laugh
Artists: Vincent Cafarelli & Candy Kugel
(EKA: Episode 2874)

Film
"There's a lot to see under the sea," according to some young swimmers who narrate a poem about the ocean-dwellers they find.
Music: "Kyisio Calypso" by Dermot Stewart
(EKA: Episode 3046)

Cartoon
A white furball catches a train going through a door marked EXIT.
(EKA: Episode 0827)

SCENE 4
Humpty Dumpty, though cracked in more places than ever, is still able to be put back together again at the Fix-it Shop. He likes sitting on the operating table so much that he decides to stay there - but how are Maria and Luis going to fix all those toasters if he won't move? They suggest that he could sit in a chair, and decide to sit him in one. Their attempt to get him off the table results in crash #5.

Animation
Marty the chair keeps bumping into things, until he finds his glasses. "See ya later!"
(EKA: Episode 2233)

Muppets
A family of Anything Muppets arranges themselves in different ways.
(EKA: Episode 0293)

Cartoon
"In and Out Crowd"
Artist: Sally Cruikshank
(EKA: Episode 2626)

Film
The Count (in voiceover) subtracts from five to three to zero children on a park bench.
(EKA: Episode 2995)




Muppets / Celebrity
Hoots tells Ernie to "Put Down the Duckie".
Celebrity version #2; this version replaces Paul Reubens, Mookie Wilson and Keith Hernandez of the New York Mets, New York Giants, and Pete Seeger's appearance with Phil Donahue, Robert MacNeil, Barbara Walters and Gladys Knight and the Pips.

Animation
Sand L / l
(EKA: Episode 1859)




SCENE 5
Now that Humpty Dumpty has a proper place to sit (a chair), the king's horses and men think they're no longer needed, but he invites them to lunch anyway. Telly announces the sponsors, and Maria and Luis head back to the Fix-it Shop, but once they leave ... CRASH! It happens again.