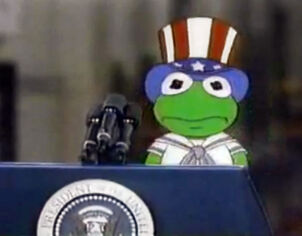 When Piggy is cheating in a boat racing game, Nanny tells the babies about making rules and agreeing upon them, to which societies make laws to help keep order and thwart fraud such as Piggy's cheating. Then they decide to hold an election for President of the Nursery, in which the president gets to make the rules (after hearing input from the other Babies). In preparing for this, the Babies learns about the functions and some of the problems of the real life President, such as imagining themselves going to Washington DC and seeing the Lincoln Memorial. In reality, the voting takes place and Kermit wins the election.
Songs
Video releases
Ad blocker interference detected!
Wikia is a free-to-use site that makes money from advertising. We have a modified experience for viewers using ad blockers

Wikia is not accessible if you've made further modifications. Remove the custom ad blocker rule(s) and the page will load as expected.