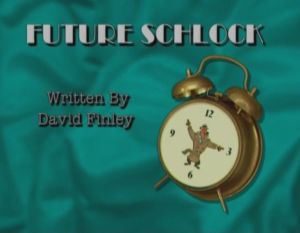 Eliot and Artie help each other overcome their fear of the future.
While Ace and Eddie chase Rottweiler's most recently commissioned world domination device -- a doggie door time portal machine.
Yves' ancestor carries on the family name as the greatest cat burglar in the cosmos - but Steven's great great grandson hasn't changed a bit. He still dresses in the same uniform and still foils Yves attempts at every comic turn.
Rosie and Dot take a trip to a futuristic amusement park where Rosie demonstrates to Dot, with the help of the Vile gang, how crime will be cleaned up in the future.
Ad blocker interference detected!
Wikia is a free-to-use site that makes money from advertising. We have a modified experience for viewers using ad blockers

Wikia is not accessible if you've made further modifications. Remove the custom ad blocker rule(s) and the page will load as expected.