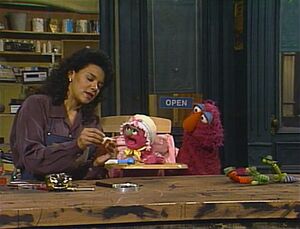 Picture
Segment
Description

SCENE 1
Gordon helps Slimey and the Worm Scouts get across two crates by placing a book in between them.

Cartoon
Five Swans (Maria voice-over added)
Artist: Owe Gustafson
(First: Episode 1460)

Muppets / Celebrity
Linda Ronstadt sings "La Charreada" with Elmo and Parker Monster.
(EKA: Episode 2540)
Cartoon
Triangles are found in various things such as a see-saw, ice cream cone, etc.
(EKA: Episode 0897)

Muppets
Sesame Street News Flash
Kermit stands by a grandfather clock waiting for a mouse to run up it, acting out "Hickory Dickory Dock". A cow and duck show up instead. Finally, a horse comes in and explains that the mouse can't make it. The horse runs through the clock, breaking it.
(EKA: Episode 0710)

Cartoon
Gordon's Voiceover 'T/t': Two caterpillars form T and t.
(EKA: Episode 2269)




SCENE 2
Telly has almost finished writing the alphabet, but has forgotten what a Z looks like. The Worm Scouts help by forming a Z with their bodies.

Film
Fireworks Alphabet
(EKA: Episode 1206)

Cartoon
The story of sheep, or where wool comes from.
Artist: Bruce Cayard
(First: Episode 1524)

Muppets
Count von Count sings "Lambaba" as he counts sheep and other animals that pop into the room.
(First: Episode 2789)

Animation
Five ghosts carry the number 5 into a haunted house.
Artist: Ishu Patel
(EKA: Episode 2255)

Cast
Charlie Chaplin (Maria) looks in a mirror and sees "ME." Maria's reflection is played by Linda. (new music added)
(EKA: Episode 1032)

Cartoon
Millie and Molly take a walk, and have different perspectives of their surroundings.
(EKA: Episode 1454)

Song
"Rollin' on the River"
(First: Episode 2783)




SCENE 3
Telly and Maria watch over Natasha while her mother is away. The Worm Scouts arrive and suggest they read a story from their "Nature Stories" book. Maria begins reading "The Acorn and the Squirrel," where an acorn thanks a squirrel for not eating him by growing into a large oak tree for the squirrel to live in during the winter.

Animation
T for toothbrush and toothpaste
(First: Episode 2811)

Song
"Let's Go Tubbin' Today"

Muppets
Grover and Mr. Johnson: Grover the messenger goes to Mr. Johnson's home to deliver some singing telegrams. After reading a series of wrong telegrams, he reads another one that actually is for Mr. Johnson, and an important one at that, but Grover does not remember who it is from.
(First: Episode 1828)

Cartoon
"Me Tarzan ... you parrot!"
Artist: Fred Garbers
(EKA: Episode 2633)

Song
Joe Raposo sings "There's a Bird On Me."
(EKA: Episode 0536)

SCENE 4
Telly tries to think of a place for Natasha to nap. The Worm Scouts show him why a table and newsstand won't work, but Natasha ends up falling asleep in his arms.

Cartoon
Joe's Lap (limerick)
(EKA: Episode 0825)

Muppets
A shark sings about his "Perfecty Pearl-White Teeth."
(First: Episode 1446)

Cartoon
Speech Balloon: C for carrot
(First: Episode 0203)

Film / Animation
A class of Navajo kids use art to describe their families, or clans.
(First: Episode 2985)

Muppets
Ernie & Bert — Ernie tries to get baby Ernestine to say his name. It turns out she's much better at saying "Bert!"
(First: Episode 2586)

Film
Fay Ray moves clockwise and ticks, until an alarm sounds.
(First: Episode 2597)




Cartoon
Flossee and Splatt stop at the playground and play rather intensely on the seesaw.

SCENE 5
Telly meets Gordon's grandmother (Lizan Mitchell), whom he is helping feed. Gordon explains how her hands hurt, so she needs some help. The two sing a song about how she used to feed him when he was young and how the roles are now reversed.

Cartoon
T for treasure (Jim Thurman VO)
(EKA: Episode 2140)

Film
Saxophone factory
(First: Episode 1446)

Muppets
The Rainbow Fish counts groups of 5 in the ocean.
(First: Episode 2923)

Cartoon
A cube tries to fit through wall holes of different shapes.
(First: Episode 1452)

Film
Kids play bongo drums loud and soft.
(EKA: Episode 2862)

Muppets
Three Anything Muppet babies sing "A Baby's Life."
(First: Episode 1423)

Film
Elmo (in voice-over) watches as kids demonstrate through and under.
(First: Episode 2921)

SCENE 6
Telly announces the sponsors, which the Worm Scouts form with their bodies.