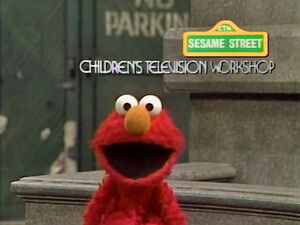 Picture
Segment
Description

COLD OPEN




SCENE 1
Elmo asks the kids what the differences and similarities between himself and Snuffy are. Elmo comes up with another way they can be the same by donning a brown sock on his nose for a snuffle.

Cartoon
"Mother Brown's Farm (Number Fifteen Song)"
(EKA: Episode 2754)

Film
Kids play bongo drums loud and soft.
(EKA: Episode 2862)

Muppets
The Sublime Miss M performs "The Sublime Ms. M."
(EKA: Episode 2837)

Cartoon
A dinosaur tries to move around a rock.
(EKA: Episode 2862)




SCENE 2
Maria tries to cheer Alice up, since her big brother is off playing with Big Bird. Elmo pretends to be an "Elmo-upagus" to keep her in good company, then gives the sock-snuffle to Maria while he answers a phone call.

Cartoon
Yellow circle and orange circle- "He's sad...he's happy!" (popped balloon)
(EKA: Episode 2477)

Muppets
"Listen to the Bells"
(EKA: Episode 2401)

Film
Five girls play a clapping game.
(EKA: Episode 2834)

Muppets / Celebrity
Sneak Peek Previews
Oscar and Telly get a lesson on "Thumbs up, thumbs down" from Roger Ebert and Gene Siskel.

Cartoon
Workmen construct a D building, filled with everything that begins with D.
(EKA: Episode 0406)

Insert
Big Bird reads a poem about how hard it is to be a sheep, and become cold when giving up one's wool: "So let's be fair when snow is deep, let's put the sweater on the sheep." Accompanied with cotton sheep illustrations.
(EKA: Episode 2636)

Song
"Come Into the Garden"
(EKA: Episode 1450)

Cartoon
Small B, Small D
Artist: Paul Fierlinger
(EKA: Episode 1186)

Muppets
Grover and Mr. Johnson: Grover the messenger goes to Mr. Johnson's home to deliver some singing telegrams. After reading a series of wrong telegrams, he reads another one that actually is for Mr. Johnson, and an important one at that, but Grover does not remember who it is from.
(EKA: Episode 1916)

Cartoon
A cat desperately tries to open a can of cat food by himself while his mistress is on the phone.
Artist: Dan Haskett
(EKA: Episode 2424)

Muppets
Baby Tooth and the Funky Funk: "Boogie With Your Buddy"
Part 1

Film
A man makes a shadow puppet of a swan.
(EKA: Episode 1118)

Film
An Hispanic boy gets up, gets dressed and goes to school as Spanish music plays (A la luna no voy yo).
(EKA: Episode 0829)

SCENE 3
Telly and Rosita play the arriba and abajo game, where Telly lifts his arms up and down depending on what Rosita calls for. Her mother calls her, leaving Telly with his arms in the air. Fortunately, Maria comes by and helps.

Cartoon
A boy leads his sister up and down a staircase.
Artist: Cliff Roberts
(EKA: Episode 0526)

Muppets
Bert sings "The Paperclip."
(EKA: Episode 2535)

Animation
Marty the chair keeps bumping into things, until he finds his glasses. "See ya later!"
(EKA: Episode 2233)

Muppets
Baby Tooth and the Funky Funk: "Boogie With Your Buddy"
Part 2

Film
Children on a playground form the letters of the alphabet.
(First: Episode 1966)

Cartoon
A song about a very curious cat, who explores until it rains pots and pans.
(EKA: Episode 2238)

Muppets
Muppet & Kid Moments: Chip Cat and Dip Cat hold a sign with the word "CAT" written on it and ask Danny if he knows what it says. When they learn that he can't read the sign, they give him clues

Cartoon
M for Mask
(EKA: Episode 2448)




SCENE 4
Preston Rabbit presents the residents of the street with a large "SH." Elmo, Rosita and Telly start whispering, so Preston adds an "out," making "SHOUT." Now, all the monsters start shouting.

Cartoon
Sign language of day, noon, night
(EKA: Episode 1226)

Muppets
Cookie Monster sings "If Moon Was Cookie."
(EKA: Episode 2619)

Cartoon
A conductor conducts a choir to hum his music ("My Music").
Artist: Paul Fierlinger
(EKA: Episode 1247)

Muppets
Baby Tooth and the Funky Funk: "Boogie With Your Buddy"
Part 3

Cartoon
The Carrot (censored version)
Artist: Bruce Cayard
(EKA: Episode 1211)

Muppets
The Count counts kids sitting on a long park chair.

Muppets / Cast
Gordon, Susan, Gladys the Cow, and Elmo sing about going to the library.

Cartoon
"Have you seen my NO?"
(EKA: Episode 1026)

Muppets
The Two-Headed Monster takes turns reading itself a story.
(EKA: Episode 2615)

Cartoon
An animated number 15 sings "How Hard It Is to Be 15" to a child who is trying to count from 1 to 20, but can't remember 15.
(EKA: Episode 2754)

Muppets
Baby Tooth and the Funky Funk: "Boogie With Your Buddy"
Part 4

Cartoon
Two hippie kids wonder how to make their droopy plant grow.
Artist: Elwood Smith
(EKA: Episode 1484)

SCENE 5
Elmo asks and answers himself about today's sponsors.