Episode 2979
Talk

0
27,412pages on
this wiki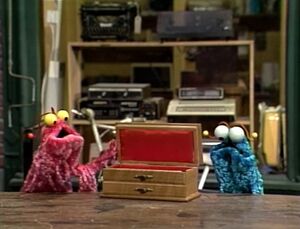 The Count tries to count three apples, and gets interrupted by Cookie Monster, who eats them one by one. When he catches Cookie Monster eating them, Cookie and the Count count the apple cores.
Ernie and Bert decide to use both Bert's canvas and Ernie's paints to paint a picture of something. Bert wants to paint a bowl of oatmeal, but Ernie wants to paint a purple monster. Finally, they decide to paint a purple monster eating a bowl of oatmeal. (EKA: Episode 1446)
Camp Wannagohoma: Grover tries to teach his campers (including Roosevelt Franklin) about what an island is, but he gets his vocabulary mixed up. He also fails to notice when the campers board the motorboat for lunch, leaving him stranded.
Director Kermit is filming Oklahoma with Forgetful Jones as the star. Forgetful is supposed to enter and sing "Oklahoma!" but sings "Aklahoma!", "Eeklahoma!" and "Iklahoma!" instead. When he finally gets it right, the production assistant says it's time for lunch. (EKA: Episode 2594)
Big Bird searches for his lost toy truck, when Placido Flamingo pops up to help him. He gives Big Bird a "TOY" sign to hold while he sings the "Lost Toy Opera," a story of a sad flamingo with a similar problem. He reveals that the main character learns that his toy ran off with his best friend, which reminds Big Bird that he loaned his toy truck to Snuffy.
Cartoon: Two people think they hear a BARK in the DARK. (EKA: Episode 2258)
Cartoon: Kids see animals in their alphabet soup.
Film: Ann Marie and Skeeter Rabbit do their dance routine. The frame freezes whenever the word STOP comes on. (EKA: Episode 2615)