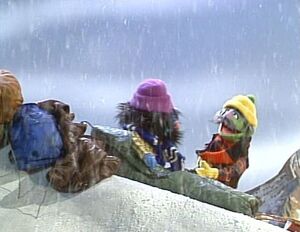 Film: As a boy plays with a tugboat in the bathtub, we watch footage of a real tugboat. (EKA: Episode 1086)
The Martians spy a leaky faucet through a kitchen window. As it continues to drip, a Fat Blue woman turns it off, shocked to see that she had been wasting water.
Cartoon: A concert pianist shows up in a construction worker's lunchbox, singing the alphabet. (EKA: Episode 0560)
Cartoon: A man slips on his daughter's skate, and she points out that it makes him feel angry. (EKA: Episode 1141)
Ad blocker interference detected!
Wikia is a free-to-use site that makes money from advertising. We have a modified experience for viewers using ad blockers

Wikia is not accessible if you've made further modifications. Remove the custom ad blocker rule(s) and the page will load as expected.