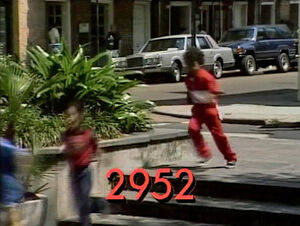 This episode guide has been compiled from incomplete video material.
Picture
Segment
Description




COLD OPEN
Gina is approached by a man waiting for his student to arrive. He introduces himself as Professor Huggins (played by an on-screen Jerry Nelson), of the Professor Huggins Traveling School of Nice, where he teaches his students how to be nice. Grundgetta, his student, finally arrives. She explains it's Oscar's birthday today and she's going to surprise him by acting nice, which will make him angry ("The perfect gift for the Grouch who has everything."). He starts off the lesson with some nice music for them to listen to...the Sesame Street Theme. Grundgetta runs off in agony.

Muppets
The Hispanic community of Anything Muppets sings "It Sure is Hot!"
(EKA: Episode 2852)

Cartoon
L for Lion (poem)
Artist: Jeff Hale
(EKA: Episode 1457)

Film
Footage of a baby learning to walk.
Music: Joe Raposo
(EKA: Episode 0427)




Muppets
Spaceship Surprise
The crew lands on the Planet TR, where they are greeted by Trevor Trout.
(EKA: Episode 2607)

Cartoon
Two monkeys argue over what to watch on TV, growing bigger the angrier they get.
(EKA: Episode 0844)

SCENE 1
Professor Huggins catches up with Grundgetta and they begin the lesson. He hands her a broken wheel and a stuff animal, then sets out some more stuffed animals and sings a musical matching game. Grundgetta successfully matches the animals together, but runs off again when she has to cuddle them all. Huggins decides it's time for recess.

Cartoon
A mouse riding an armadillo sings a song about 13, his lucky number.
(EKA: Episode 2849)

Muppets
Ernie and Bert: Caveperson Days
Caveman Bert reminds Caveman Ernie (his son) to take out the trash. Ernie realizes that his drum can also be used as a wastebasket, and is able to take several pieces of garbage to the dump at once instead of one at a time.
(EKA: Episode 2888)

Song
A piece of land with water all around it is an "Island."
Artist: Jane Aaron
(First: Episode 2760)

Cartoon
"Why Bears Smile" - a story of a bear who learned which body part to cover when sneezing.
Artist: Bruce Cayard
(EKA: Episode 1167)

SCENE 2
Professor Huggins admits he cannot help Grundgetta; she's a Grouch and he can't change who she really is. But, she can pretend to be nice. He sings her a song with words most nice people use - "How Do You Do, Excuse Me, Thank You, Please." Grundgetta thinks she's got it, though uses the word "please" accidentally.

Cartoon
Typewriter Guy: W, Wall
(EKA: Episode 1710)




Muppets
Guy Smiley hosts "What's My Part?" The contestants are Bennett Snerf, Arlene Frantic and Professor Hastings, and the mystery part is a foot.
(EKA: Episode 0256)
See also
Ad blocker interference detected!
Wikia is a free-to-use site that makes money from advertising. We have a modified experience for viewers using ad blockers

Wikia is not accessible if you've made further modifications. Remove the custom ad blocker rule(s) and the page will load as expected.