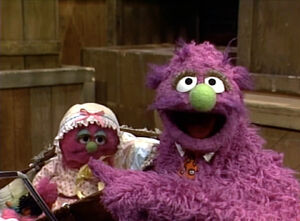 Picture
Segment
Description

SCENE
Elmo starts his own newspaper, the "Elmo News," but accidentally prints a story that will ruin the surprise of Prairie Dawn's surprise birthday party.

Muppets
"Six Kids Subtraction"
(EKA: Episode 2689)

Cartoon

A satellite view of the earth is shown on television, while a group of geese decide to fly south.
Artist: Paul Fierlinger
(EKA: Episode 2756)

SCENE
Elmo tells Gina about his experiment: he wonders if Prairie will still recognize him while wearing a disguise. Prairie almost falls for it, until she hears Elmo's celebratory laugh after it works. Elmo runs off, but Prairie still wants to know what's written about her in his "Elmo News" newspaper.

Film
Counting six oryx
Music: Joe Raposo
(EKA: Episode 0573)

Cartoon
A girl picks the key that matches the keyhole in order to gain access to a cache of toys.
Artist: Dan Haskett
(EKA: Episode 2753)

Muppets / Cast
Gordon plays a game with the viewer - which person belongs in the Quiet Family and in the Loud Family?

Cartoon
A map of India morphs into the shape of animals that are found there.
(EKA: Episode 2758)

SCENE
Humphrey sings a song about how much fun he has trying to talk like his daughter Natasha.

Cartoon
A mad scientist teaches his monster how to say the words "Fred," "foot" and "Friday."
(EKA: Episode 2484)

Film
Looking for circles in the city (Maria voice-over)
(EKA: Episode 2757)

Muppets
Pretty Great Performances: James Galway and the All Animal Chamber Ensemble perform a work by Johann Sebastian Fox.
(EKA: Episode 2561)

Cartoon
A caveman finds a rock on the ground, and visualizes the invention of the wheel and the car, ultimately deciding to toss the rock away: "Who needs it?"
(EKA: Episode 1049)

Film
A park ranger speaks to a group of kids about trees and the fruits that come from them. Then all the kids hug a tree.

Animation
A frog is formed out of seeds.
(EKA: Episode 2609)




SCENE
Prairie catches up with Elmo, who says the adults made him promise not to tell her. Lillian gives him permission to read her his paper: "Surprise Birthday for Prairie Dawn!" The celebration begins, but before Prairie can blow out the candles, Elmo rushes off, yelling "Hold the presses!"

Cartoon
"Mad Goat Song"
Artist: Derek Lamb
(EKA: Episode 0824)

Film
Fay Ray moves clockwise and ticks, until an alarm sounds.
(EKA: Episode 2645)

Muppets
The Cereal Girl sings about her missing "Hair Brush."

Cartoon
Rap #6
(EKA: Episode 2580)

SCENE
Elmo returns with a new headline: "Prairie Dawn Blows Out 7 Candles!" Prairie doesn't think she's entirely capable (and doesn't want to ruin Elmo's headline), but manages to do it. The presents are brought out as Humphrey announces the sponsors.
Notes