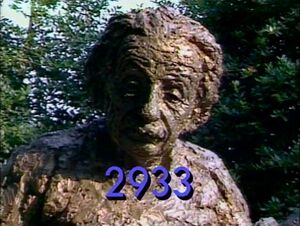 Picture
Segment
Description

SCENE 1
Big Bird finds Jelani and his friends, including Duane, waiting around. Their friend Lamar has lost a wrench he needs to fix his bike. He needs to find it or they'll be late for school. Big Bird recalls when a similar situation happened and was told to retrace his steps. Lamar recalls leaving it in Hooper's Store...on a stool Big Bird sits on. Big Bird returns the wrench and tells him to leave it somewhere on which birds won't sit.

Cartoon
A boy gets lost, and encounters a man with a yo-yo, who tells him to remember everything he passed.
Artist: Jeff Hale
(EKA: Episode 0668)

Muppets
Ernie sings "Do What I Do" with Sandy the Snake in an effort to explain how actions can express emotions. However, Sandy finds it difficult to do what Ernie does, since snakes don't have limbs.
(EKA: Episode 1277)

Animation
A picture puzzle of the letter T is put together. A man walks up to it, and calls a taxi.

Film
Fay Ray gets on and off a rug.
(EKA: Episode 2746)

SCENE 2
A farmer says goodbye to his pig who's going on vacation. Gina finds the sad farmer, who explains that each one of his five pigs has left him. He shows her pictures of each one and describes how they left (each one is said to leave in the same fashion as the ones in "This Little Piggy"). She assumes the last one went "wee-wee-wee" all the way home, but the farmer states he went to Hawaii and runs after him, since he forgot his surfboard.

Film
A film of two kids at a petting zoo is narrated in English and Spanish.
Music: Joe Raposo
(EKA: Episode 1041)

Muppets
"Frazzle" with Frazzle & The Frazzletones
(First: Episode 0846)

Film
Five girls play a clapping game.
(First: Episode 2763)

Cartoon
Dr. Annie Eyeball studies wet things which eventually become dry.
Artist: Bruce Cayard
(EKA: Episode 2815)

Muppets
Super Grover: Grover Kent sees a lost little girl in trouble and tries to find a phone booth to change in, the same one she wants to use to call home. (introducted edited)
(EKA: Episode 0710)

Cartoon
An O rolls over and over a horse, who then eats it.
(EKA: Episode 0198)

Celebrity
Basketball player Isiah Thomas shows a girl that it takes practice to play the game, but she makes a basket on her first try.

Song
"Ja, Ja, That is the Mountain"
Artist: Jane Aaron
(EKA: Episode 2780)

Muppets
Mysterious Theater: Dial M for Mother
Sherlock Hemlock tries to figure out what he needs to call his mother before Big Ben strikes midnight...as he stands next to a London telephone booth. The message he has is to wish her a happy birthday.
(EKA: Episode 2727)

Cartoon
The Bellhop is told that somebody at table 18 has a phone call, and after he struggles to get there he is told to take a message.
(First: Episode 2549)

Film
A percussionist on the beach talks about how rhythm is everywhere, such as in breaking waves, walking, and horse galloping.
(EKA: Episode 0172)

Muppets
"One Banana"
(EKA: Episode 2606)

Film
Baby animals nurse.
Music: Joe Raposo
(EKA: Episode 0581)

Cartoon
Hockey player (Spanish).
(EKA: Episode 2228)

SCENE 3
Oscar explains a trick he's going to pull on Grundgetta - they've painted a hose to look like Slimey, but instead is named "Stimey" and is posing as his brother. Oscar predicts she will say "That's amazing!"; on the mention of the word "amazing", Fluffy will blow through the hose, squirting her. Gordon stops by and figures it out. He thinks the setup is amazing and gets squirted. Grundgetta arrives and is upset that Oscar pulled the trick on Gordon instead of on her as planned.

Cartoon
A pig sings "I Love Being a Pig."
(EKA: Episode 0592)

Muppets
The American Revolution: The Declaration of Independence
Thomas Jefferson (Don Music) has trouble getting a replacement quill to finish writing the Declaration when Grover misinterprets what he needs, bringing a drill, and a chicken named Phil.
(EKA: Episode 2345)

Cartoon
Spinning T (to the tango beat)

Film
Penguins take a bath.
Music: Joe Raposo
(EKA: Episode 0440)

Muppets
"The Ten Commandments of Health"
(EKA: Episode 1163)

Cartoon
A heart that says "I love you" is drawn.
(EKA: Episode 2140)

Cast
Lillian sings a "Simple Clapping Song" with some kids.
(First: Episode 2827)

Cartoon
O for orange
Artist: Bruce Cayard
(EKA: Episode 0975)

Muppets
Ernie plays Old King Cole and calls for his pipe and bowl. When he calls for his fiddlers three, they each appear one at a time allowing him to practice his addition.
(EKA: Episode 2524)

Film
Knock knock. Who's there? The woodpecker!
(EKA: Episode 1059)

Cartoon
An orange ball tries to pet a green one, which growls, scaring him away.
(EKA: Episode 2574)

Animation
Growing Numbers #18

Muppets
Polly Darton sings "I'm Under the Weather Over You".
(EKA: Episode 1800)

Cartoon
T is for Television
(First: Episode 0024)

Cast
(Same and Different) Maria and Linda dress the same, then Linda dresses differently.
(EKA: Episode 2140)

Cartoon
Willie Wimple: Land Pollution
(EKA: Episode 0598)




SCENE 4
Big Bird, Prairie Dawn, and Flo Bear are playing a game in which whenever Flo rings a bell, they must say something with the word "park" in it. She shows Gina how to play. Afterward, she announces the sponsors.