Ad blocker interference detected!
Wikia is a free-to-use site that makes money from advertising. We have a modified experience for viewers using ad blockers

Wikia is not accessible if you've made further modifications. Remove the custom ad blocker rule(s) and the page will load as expected.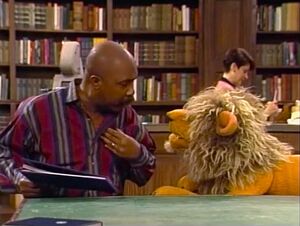 This episode guide has been compiled from incomplete video material.
Picture
Segment
Description

SCENE 1

Merry Monster pops up, shouting "Wubba wubba wubba!" She's practicing scaring people today (being a monster and all). She tries scaring Maria, who's merely surprised. Maria needs to concentrate on her work, so Merry instead practices scaring herself.

SCENE 2

Merry attempts to scare Prairie Dawn, who doesn't even flinch. She encourages Merry to keep trying though and offers some suggestions on how to scare someone. Prairie's suggestions succeed in scaring Merry off. "Maybe I have discovered a brand new talent," Prairie comments.

SCENE 3

Merry uses Prairie's advice on Barkley, who leaps onto Linda's lap, whimpering. Gordon and Linda don't think that was very nice and Merry apologizes. She starts speaking softly to him and he calms down and begins to lick her face.




SCENE 4

Chicago the Lion visits the library for the first time and Linda suggests he look around for a book he might like. He pounces on a book case looking for a book on vegetables and Maria remarks Linda should get a book on lion taming.

Muppets

On a rainy day, Ernie watches TV, when Bert suggests he do something else, like write a story. Thus, Ernie sets everything out on the table, including pencils, paper, a pencil sharpener, and a wastebasket (which somehow ended up on Bert's head). Ernie is now ready to write a story, but instead, he leaves everything set out for when he gets an idea.
(EKA: Episode 1451)

Cartoon

Letter I (Beep Beep)
(EKA: Episode 0514)

Film

Examples of people and animals going down.
Music: Joe Raposo
(EKA: Episode 0406)

Cartoon

Is no one afraid of The Big Bad Wolf?
(EKA: Episode 2405)

Cast

Big Bird, Susan and Bob sing "Can Read" while at a newsstand.
(EKA: Episode 2356)

Cartoon

CGI sheep graze out I and i.

Film

An I-beam is molded at a steel factory as heavy industrial-type music underscores the action. The segment ends on a video freeze of the finished beam, which is shaped like the letter "I."
(EKA: Episode 1450)

Cartoon

A shy girl wants to join a group bouncing a ball. (audible dialogue)
Artist: Joanna Priestley

SCENE 5

Gordon reads "The Broccoli from Another Planet," when Chicago pounces on him for his book. Gordon tells him he must wait his turn. Chicago waits patiently, then pounces on Gordon.

Cartoon

Jerry Nelson sings and counts thirteen turkeys.
(EKA: Episode 2756)




Muppets

The Count's main jumping-over-the-bed flock of sheep quits on him, so he calls the "24 Hour Emergency Counting Service". A reluctant deliveryman in sheep's clothing laments, "It's not an easy way to make a livin' ..."
(EKA: Episode 2122)

Cartoon

A kid tries to push his toy house through the front door without the door closing.
Artist: Paul Fierlinger
(EKA: Episode 0926)

Animation

A poem about oranges.
(EKA: Episode 2881)

Film

A scuba diver collects shells, which some kids count in voice-over.
Music: Joe Raposo
(EKA: Episode 0751)

Cartoon

Jim Thurman sings "Calcutta Joe."
Animation by Buzzco Associates, Inc.
(EKA: Episode 2492)

Muppets

Harvey Kneeslapper tells a knock-knock joke which results in a "D" on his opponent's chest.
(EKA: Episode 2608)

Cartoon

D for danger, dragon, doctor, dinner, and dessert
(EKA: Episode 2449)




SCENE 6

Chicago's roars of laughter from reading start frightening the other patrons. Maria asks that he keep his laughter to a dull roar. He becomes so happy when he learns he can take the book home with him, he roars with joy. The patrons all run out afraid. Gordon announces the sponsors, while Chicago wonders where everyone went.
Notes