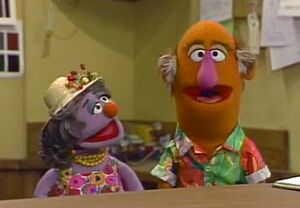 Picture
Segment
Description




SCENE 1
Oscar seeks shelter in the Fix-It Shop from the happiest people in the world, Herb and Glo, who don't leave him alone. The two love to travel the globe and find joy in everything, and Herb likes to sing about the things that make him happy. Oscar convinces them to leave him alone, which will make him truly happy. The happy couple now focuses their attention on Maria and Luis, who take the first opportunity to introduce them to Mr. Handford (their next, unwitting victim).

Film
A zydeco band plays "Bayou Pon Pon" while people dance and the townspeople of New Orleans wave at the camera.
(EKA: Episode 2589)

Cartoon
Consonant Sound Limerick: H - Horse
(EKA: Episode 0809)

Muppets
The Count sings "The Batty Bat."
(First: Episode 2096)

Cartoon
Pinball #3
Artist: Jeff Hale
(EKA: Episode 1037)

SCENE 2
Big Bird prepares to say the alphabet, when Mr. Handford introduces him to Herb and Glo (and then escapes). The two gush over how he says A and B and allow him to finish before making any more comments. Herb sings another song of joy.

SCENE 2 cont'd
Gordon, Susan and Miles arrive and Big Bird hastily forces an introduction before ditching them. The two continue to gush and sing as Miles attempts to count now.

Cartoon
"Alphabet Jungle"

Film
Some kids have a bike race by the river.
(EKA: Episode 1443)

Cartoon
V for volcano, violet, and violin
(EKA: Episode 2595)

Muppets
"Do De Rubber Duck"
(EKA: Episode 2399)

Cartoon
Three birds enter a cuckoo clock to do their job.
(EKA: Episode 0543)




SCENE 3
The Robinsons pass along Herb and Glo to Snuffy, whom Glo believes is a variety of elephant. Snuffy explains the distinction, which is made more clear when a real elephant passes by. Herb attempts to get a photo by his snuffle, when the two are blown off when Snuffy sneezes. Herb sings another one of his songs, when Snuffy sees the chance to pass them along to more friends (Bob, Linda, Gina and Savion).