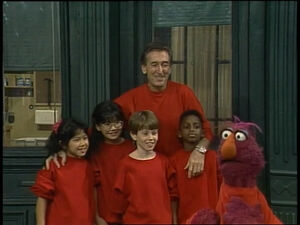 This episode guide has been compiled from incomplete video material.
| Picture | Segment | Description |
| --- | --- | --- |
| | SCENE 1 | Telly waits at Bob's door early in the morning, as today, he is going to do everything Bob does. He wakes Bob up with his knocking and asks if he's missed anything Bob has done. Bob tells him all he's done is sleep, heard Telly's knocking, and woke up. Telly jumps into Bob's bed and has Bob knock on the door so he can do what Bob just did. Unfortunately, Telly falls asleep and can't hear Bob knocking on the door. |
| | SCENE 2 | Telly finally wakes up and remembers Bob is outside. He opens the door and lets him in. He then tries to take a shower with Bob, until he learns Bob does that alone. He listens to the sounds in the bathroom, and then pretends to do the same thing on the other side of the door. |
| | SCENE 3 | Telly and Bob are going to have the same thing for breakfast – granola. Telly refuses to eat it, since he's never had it before. He gives it a taste and likes it so much, that he begins to eat Bob's whole portion. |
| | SCENE 4 | Back in Bob's apartment, Telly and Bob wait for his music students to arrive. Telly counts the students that just arrive, and then adds the late comers. Telly wants to help Bob teach, but he suggests Telly sing with the chorus. He joins them in singing "One Small Voice". Telly then joins Bob in congratulating the chorus. |
| | SCENE 5 | Bob is about to jog when Telly arrives, wearing the same workout clothes as Bob, and tells him that he is no longer copying Bob; he and the Bobkateers are! Telly worries, however, that if they go jogging, they'll love it some much they'll keep on jogging and never come home (and he and the Bobkateers have school in the morning). Bob assures Telly he's going around the block a few times and that they'll be back before tomorrow. |
| | SCENE 6 | Bob, Telly and the Bobkateers are all waiting under the bus stop sign, wearing glasses and reading the newspaper. The bus zooms past without stopping, making Bob mad (throwing his newspaper down in frustration). The Bobkateers get angry and throw their newspapers as well. |
| | SCENE 7 | Now nighttime, Bob plans to go back to his apartment, read then sleep. Telly and the club are excited to do the same thing, until Bob points out they will do the same thing at their own houses. The closing music begins playing, which means the Bobkateers can announce the sponsors the same way Bob does. |
Ad blocker interference detected!
Wikia is a free-to-use site that makes money from advertising. We have a modified experience for viewers using ad blockers

Wikia is not accessible if you've made further modifications. Remove the custom ad blocker rule(s) and the page will load as expected.