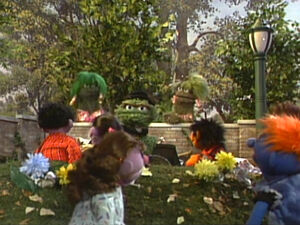 This episode guide has been compiled from incomplete video material.
Picture
Segment
Description

SCENE
In the evening, Telly waits outside the in-repair Hooper's Store with Mr. Handford. Telly passes the time until its completion by imagining what the store will be like once it re-opens. He's elated when his imagination becomes reality, when Maria and Luis report that their work in finished and the store is now ready to re-open.

Cartoon
Rap #7
(EKA: Episode 2506)

Muppets
Oscar sings "Just Throw It My Way."

Cartoon
An elephant asks Nesbitt for directions to the zoo, but won't listen to him long enough.
Artist: Janet Perlman

Celebrity
Blair Underwood swings Elmo sixteen times.

Cartoon
Zork lands on the coast of California, where he meets a slick agent.
Artist: ArtistMike
(EKA: Episode 2687)

Film
A blind boy narrates his day. He reads braille, adds with an abacus, and plays in the playground with his friends.
(EKA: Episode 1762)

Cartoon
An elephant, a zebra, a hedgehog, an ostrich, a frog and a ladybug create a rhythm with their footsteps.

SCENE
Telly is excited to enter the new Hooper's Store, sit on the new stools at the new counter and order some new milkshakes. Mr. Handford tells him that he can't open the store right away - he needs to organize some things and will have a grand opening tomorrow. Telly freaks out and tries to forget about the more waiting he has to do, as Luis announces the sponsors.
Ad blocker interference detected!
Wikia is a free-to-use site that makes money from advertising. We have a modified experience for viewers using ad blockers

Wikia is not accessible if you've made further modifications. Remove the custom ad blocker rule(s) and the page will load as expected.