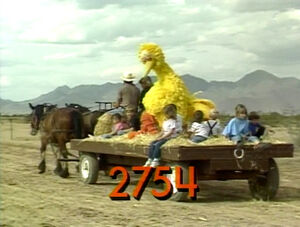 Picture
Segment
Description




SCENE 1
Bob walks down Sesame Street and bumps into Buster the Horse, Hoots the Owl, Gladys the Cow, and Rudder Rabbit, practicing singing.

SCENE 1
cont'd
Bob finally encounters Placido Flamingo, the great one, who has been looking for him. He tells Bob about his new opera, which will star all of the singing animals, including the bumblebee (which will be played by Bob). Bob thinks it might be fun ...

Cartoon
Two orange balls perform "Twinkle Twinkle Little Star"
Artist: Fred Garbers
(EKA: Episode 2375)

Film
A boy talks about living in Alaska and about racing sled dogs.

Animation
Arnold uses his imagination.
Artist: Craig Bartlett

Muppets
A shark sings about his "Perfecty Pearl-White Teeth."
(EKA: Episode 1446)

Cartoon
A toothbrush talks to a mouth about what could happen to it if not taken care of.
(EKA: Episode 2523)

Film
City Alphabet (Joe Raposo)
(EKA: Episode 0266)

Cartoon
A man slips on his daughter's skate, and she points out that it makes him feel angry.
(EKA: Episode 1141)

SCENE 2
With the help of his little assistant Bob, Placido assigns everyone their parts in the opera. Each player's envelope has a rhyme which describes what kind of animal they are.

SCENE 2
cont'd
Bob gets down to the last two envelopes, and thinks he has the one that reads, "I sing and I sing / It's the perfect thing" - but that one actually goes to Placido. Bob gets the part of the bumblebee, because Buzzy the bee couldn't make it.

Film
A bumble bee
Music: Joe Raposo
(First: Episode 0082)

Cartoon
The Pink Panther karate chops a "K" out of rock
(EKA: Episode 0386)

Film
Two kids cooperate on putting on smocks for painting.
(EKA: Episode 0334)

Muppets
Grover watches Mumford practice a trick, making a rabbit come out of his hat. Mumford has trouble getting a rabbit to come out of the hat, and both are oblivious to the fact that Grover is turning into a rabbit.
(EKA: Episode 0712)

Film
Alphaquest: D
(EKA: Episode 2748)

Film
Subway Train Empty & Full.
(EKA: Episode 0897)

Cartoon
An animated number 15 sings "How Hard It Is to Be 15" to a child who is trying to count from 1 to 20, but can't remember 15.
(First: Episode 2743)

Cast
(Same and Different) Maria and Linda dress the same, then Linda dresses differently.
(EKA: Episode 2140)

Animation
Where do the Ds fit?
(EKA: Episode 2648)




SCENE 3
Once Bob arrives with his bee costume on, Placido's opera, "The Perfect Thing" is performed. It is about the sounds animals make; whatever sound they make is the perfect thing (especially for Placido, who sings).

SCENE 3
cont'd
When the opera finishes, Bob is ready to get out of the bee costume, but Gladys wants him to pose for her ...

Cartoon
A photographer tries to look for some animals quietly, but they all end up secretly following him.
(EKA: Episode 0845)

Film
Long and short automobiles
(EKA: Episode 0829)

Cartoon
Igor listens as Dr. Frankenstein names body parts in creating another Igor.
Artist: Irra Verbitsky
(EKA: Episode 2293)
Muppets
Ernie and Bert are camping. It's time for them to sleep, but Ernie keeps distracting Bert by pointing out the various sounds that they hear.
(EKA: Episode 2029)

Cartoon
I Thought a Thought ... about small things. A man thinks about small things, and lists them. A sea monster thinks it is small, especially when compared to its father!
Artist: Cliff Roberts
(EKA: Episode 0271)

Song
Joe Raposo sings "Everybody Eats."
(First: Episode 0407)

Cartoon
A lowercase "k" kisses everything.
(First: Episode 0131)

Muppets
Kermit's Lectures - Kermit watches some live bears do exercises.
(First: Episode 0044)

Cartoon
Sand D/d
(EKA: Episode 1706)

SCENE 4
Gladys has finished a painting of Bob as a bee, and three other objects -- the perfect cue for a game of "Three of These Things." Which one doesn't belong? Whether it's the cow or the airplane, both of those answers are right.

Cartoon
"Mother Brown's Farm (Number Fifteen Song)"
(First: Episode 2693)

Film
Two kids help an old Chinese man get his dragon kite in the air.
(EKA: Episode 0792)

Cartoon
Bruce the Moose invites Toulouse LaGoose over for juice.
(EKA: Episode 2589)

Muppets
The School Game, hosted by Guy Smiley. Three students have to guess what their teacher does and doesn't do for a living.
(EKA: Episode 2282)

Cartoon
"K" Key- A man, Leonard, puts a key into a keyhole, but instead of just opening a door, he opens the entire front of a house.
(First: Episode 0040)

Film
Fay Ray listens to classical music on headphones. "Are you listening to me?"
(EKA: Episode 2614)

Cartoon
Number creatures: 15.
(EKA: Episode 2749)

SCENE 5
Bob wants to get out of his bee costume, but Placido needs him to stay inside it while he sings "The Insects In Your Neighborhood." Bob thinks he'll finally get to put his costume to better use by singing a verse, but instead, Placido sings about a grasshopper and a spider.

SCENE 5
cont'd
Bob is upset that he didn't get to sing a verse. Once Placido leaves, he sings what he thought would have been his verse in the song, and the accompanying wisecracks as well. Hoots announces the sponsors. "Nice suit, Bob. Sheesh!"