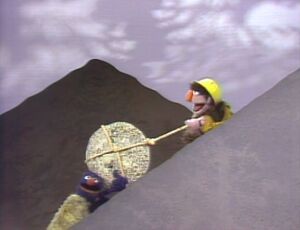 This episode guide has been compiled from incomplete video material.
Picture
Segment
Description

Insert
Hoots does "The Birdcall Boogie" with Gina, Mike and some kids.

Film
A man spins in circles while riding in his kayak. (EKA: Episode 0312)




Muppets
Guy Smiley hosts "What's My Job?" in which blindfolded monster contestants guess the occupations of different professionals, including Sonny Friendly
(EKA: Episode 2573).

Cartoon
Rap #17
(First: Episode 2488)

Cartoon
A rabbit reads the word "STREET."
(EKA: Episode 0814)

Muppets
The Count sings "The Batty Bat".
(First: Episode 2096)

Song
Joe Raposo asks the musical question, "Which Comes First, the Chicken or the Egg?"
(EKA: Episode 0276)

Muppets
Ernie and Bert: Bert asks Ernie to share a banana with him. Ernie gets the inside of the banana, and gives Bert the peel.
(EKA: Episode 0600)

Animation
Lowercase/uppercase T

Film
"I Can Do It By Myself"/"Inside Out"/"It's Easy" Films of children trying to put on their clothes.
(EKA: Episode 1736)

Cartoon
Drill sergeant 0 roll-calls army of numbers 1-20.
(EKA: Episode 0536)

Muppets
Grover invents the wheel to help Biff move a stone up a hill.
(EKA: Episode 0898)

Cartoon
Don't be a Snerd when you sneeze. Artist: Bruce Cayard
(EKA: Episode 1854)

Muppets
"Circle the Girl"
(EKA: Episode 1927)

Cartoon
Sign Cartoons: "WALK TALL" - A snake tells the man that all he (the snake) can do is "crawl tall."
(EKA: Episode 1161)

Film
In a classroom, kids learn the musical scales through various exercises.
(EKA: Episode 2362)

SCENE

Film
A cloud morphs into a boat, a train, a car, and a plane

Muppets
Kermit the Frog explains the importance of listening, using the Two-Headed Monster as an example.
(EKA: Episode 1933)

Film

Film/Cartoon
A cartoon man climbs a live-action boy.
(EKA: Episode 1111)

SCENE

Cast
Big Bird watches the shape dancers make a square.
(EKA: Episode 1646)

Cartoon
The journey of a "V" is told in limerick.
(EKA: Episode 1396)

SCENE
Gina explains to Elmo about clouds and rain from them. Gina announces the sponsors at the end.

Known missing segments

Picture
Segment
Description

Cartoon
Vitamins give vim, vigor and vitality to a droopy "V."
(EKA: Episode 1740)

Cartoon
"T" for Turtle
(EKA: Episode 2234)
Ad blocker interference detected!
Wikia is a free-to-use site that makes money from advertising. We have a modified experience for viewers using ad blockers

Wikia is not accessible if you've made further modifications. Remove the custom ad blocker rule(s) and the page will load as expected.