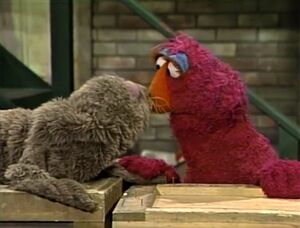 This episode guide has been compiled from incomplete video material.
Picture
Segment
Description




SCENE 1
Telly and the Honkers watch as Bob teaches Wolfgang the Seal to play "Frère Jacques" on the horns. Bob must run downtown to get the horns fixed, as well as buy some fish for Wolfgang. He asks Telly to watch him and soon, Wolfgang begins playing Telly's nose as if it's one of the horns.

SCENE 2
Wolfgang still wants to practice some more, continuing to tap Telly. Susan and Gina see his plight and accidentally let the word "fish" drop, sending Wolfgang into a fit. Gina takes the fish away, calming him down, but now he keeps tapping his nose. The gaggle of Honkers make for a perfect substitute for his horns.

SCENE 3
Snuffy and Alice are about to head home, when Snuffy asks Gina a question about the fish she's bringing to Wolfgang. Snuffy tells Alice the importance of asking questions and she proceeding to ask nothing but "Why?"

SCENE 4
Wolfgang lays on his side, sadly moaning. Gina and Susan try to get him to eat his fish, but he refuses. Telly recalls what Bob told him earlier: the only time Wolfgang won't want fish is if he's sick. He decides to call Dr. Flippin, the seal doctor.

SCENE 5
Dr. Flippin observes Wolfgang and concludes he's not sick - he's depressed. He becomes happy again when Bob returns with the horns and fish.




SCENE 6
Bob introduces the "Seal Harmonic," who perform "Are You Sleeping, Brother John?." The Honkers play their noses, Bob conducts his kid chorus and Wolfgang plays some horns.

SCENE 7
Bob, Susan, Gina, and Telly enjoy a fish dinner in the arbor, while Wolfgang enjoys a swim in Bob's bathtub. Snuffy announces the sponsors.

Known missing segments

Picture
Segment
Description

Cartoon
W for witch
Artist: Jeff Hale
(EKA: Episode 2407)

Cartoon
The Bellhop is asked to carry a guest's two small (but heavy) bags to Room 14.
(EKA: Episode 2571)

Cartoon
P is for Pillow
(EKA: Episode 0296)

Song
Joe Raposo sings "Somebody Come and Play."
Snow leopards version

Cartoon
A letter "P" sits on an island before a rotating sunset. The ridges of the letter "P" moves along the letter and flash in different colors.
(EKA: Episode 1459)

Film
City alphabet (Joe Raposo instrumental with kid voiceover)
(EKA: Episode 0266)

Cartoon
Gloria talks about 'W'
(EKA: Episode 1201)
Ad blocker interference detected!
Wikia is a free-to-use site that makes money from advertising. We have a modified experience for viewers using ad blockers

Wikia is not accessible if you've made further modifications. Remove the custom ad blocker rule(s) and the page will load as expected.