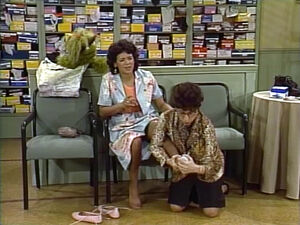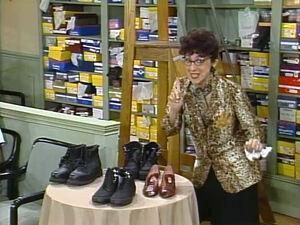 Cartoon: A man tries to explain how "G" is the first letter in the word "giggle". (EKA: Episode 0514)
In a two-part segment, Edith Prickly (Andrea Martin) attempts to sell shoes to Maria and Grundgetta. First, she finds that a small shoe and a big shoe won't fit Maria, and figures out her shoe size by measuring her foot. After finding the right size, Maria can't decide on what pair she likes best. With only four pairs left to choose from, Edith plays a game of Three of These Things with three pairs of boots and one pair of maroon pumps. Maria chooses the pumps and buys them. (EKA: Episode 2324)
Cartoon: Gloria, a rambunctious little girl, tries to sing the Alphabet Song as an unseen person directs her. (Uppercase version) (EKA: Episode 0263)
Cartoon: A man explains that the letter E begins both Enter and Exit. Another man named Roy runs through the doors. (EKA: Episode 0406)
Cartoon: Are you the monster that ate the television?
Cartoon: What would happen if a rabbit and a turtle switched their appearances? (EKA: Episode 1159)
Ad blocker interference detected!
Wikia is a free-to-use site that makes money from advertising. We have a modified experience for viewers using ad blockers

Wikia is not accessible if you've made further modifications. Remove the custom ad blocker rule(s) and the page will load as expected.