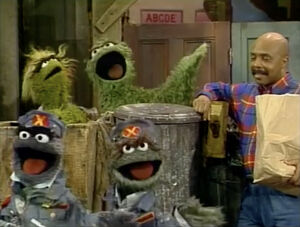 Picture
Segment
Description

SCENE 1
Gordon finds Oscar and Grundgetta arguing over triangles and squares. They happen to represent two different Grouch vacations - the Triangle Vacation stops at three destinations, while the Square Vacation stops at four. Neither of them are interested in traveling, they just want to argue.

Film
"Listen ..." to various sounds, including the ocean, a heart beating, a clock ticking, a horse galloping, crickets chirping, a passing train, and others.
(EKA: Episode 0977)

Muppets / Cast
Professor David lectures his class on trees. He says they are only good for looking at and leaning against, but they mention other uses for them.
(EKA: Episode 2292)

Cartoon
Different ways to use a string
Artist: Paul Fierlinger
(EKA: Episode 0980)

Muppets

Ernie & Bert: Through his binoculars, Ernie observes Bert reading the newspaper, even though he's closer to Bert than he need be.
(EKA: Episode 2282)

Cartoon
The Ringmaster displays 11 purple pooches.
Animation by Jeff Hale
(EKA: Episode 1800)

Film
Empty / full classroom (time-lapse)
(EKA: Episode 1031)

Cast
Linda teaches a kid how to sign the word CLOSED. (remake)

Cartoon
Lightbulbs subtract from 5 to 0.
Artist: Fred Garbers
(EKA: Episode 2254)

Muppets
News Flash: Kermit reports on the London Fog, but keeps getting interrupted by The London Frog, a Grenadier Guardsman carrying the London Log, and the London Hog. The fog then evaporates, so they all dance the London Clog.
(EKA: Episode 2404)

Cartoon
Consonant Sound Limerick: D—Dog
Artist: Jeff Hale
(EKA: Episode 1186)

Muppets
The Two-Headed Monster shares a pair of headphones.
(EKA: Episode 1709)

Cartoon
Animals who eat crunchy things have nice teeth.
(EKA: Episode 2508)
Insert
R2-D2 falls in love with a fire hydrant.
(First: Episode 1396)

Cartoon
Joe's Lap (limerick)
(EKA: Episode 0825)

Muppets
"Big Kids Cry"
(EKA: Episode 1710)

Cartoon
The letter X
(EKA: Episode 2390)

Film
Bald eagle (child voice-overs).
Music by Joe Raposo
(EKA: Episode 0734)

Cartoon
Dr. Nancy Einstein does some experimenting with ice cubes.
Artist: Bruce Cayard

Muppets
Monsterpiece Theater: Chariots of Fur
(EKA: Episode 1836)

Cartoon
What if we celebrate Valentine's Day with chickens instead of hearts?
(EKA: Episode 0815)

SCENE 2
Oscar and Grungetta seem to be arguing again, now over the letter X and a train. They tell Gordon they're actually preparing for a song about the "X Train," a favorite method for Grouch vacations. They're backed up by a pair of Grouch conductors.

Cartoon
Es un perro
(EKA: Episode 2243)

Muppets
Beat the Time: Elmo must bring in three items that start with "SN" within thirty seconds. They turn out to be a man's snack of nuts and raisins, a sneaker (worn by Telly Monster), and finally, the massive Mr. Snuffleupagus! As his prize, he is given a snowman wearing a snorkel.

Animation
Sand Alphabet: X / x
(EKA: Episode 2390)

Film
An Hispanic boy gets up, gets dressed, and goes to school as Spanish music plays (A la luna no voy yo).
(EKA: Episode 0829)

Cartoon
A man recites a poem about how curious he is.
(EKA: Episode 2401)

SCENE 3
Gordon, Susan and Miles are going to the lake for a nice picnic, but their car won't start. Oscar and Grundgetta are upset that the family doesn't get angry. While Susan works on the car, Gordon reads Miles a poem from "Under the Shady Tree." The car breaks down again, so Gordon and Miles pretend to have a tantrum to please the Grouches, then calmly return to their book.

Song
Joe Raposo sings "Doggy Paddle."
(EKA: Episode 2517)

Muppets
Ernie and Bert: Ernie turns on the radio to hear his favorite exercise show, Get Moving. He engages the viewer to do all the exercises he does, such as touching toes and jumping. Bert joins in, and has so much fun jumping that he doesn't notice that his favorite program, Pigeons in the News, is coming on.
(EKA: Episode 1025)

Animation
Where do the Ds fit?
(EKA: Episode 2256)

Cast / Celebrity
Maria interviews Martina Navratilova about her victory against Luis, but the replay tapes show she had trouble going over the net to shake hands.

Cartoon
Rap #11
(EKA: Episode 2598)

SCENE 4
Susan returns from the car parts store empty handed, putting their vacation to an end. The Grouches are pleased, until the family decides to postpone their trip to the lake and heads to the park. The Grouches leave in a huff while Big Bird announces the sponsors.
Ad blocker interference detected!
Wikia is a free-to-use site that makes money from advertising. We have a modified experience for viewers using ad blockers

Wikia is not accessible if you've made further modifications. Remove the custom ad blocker rule(s) and the page will load as expected.