Episode 2606
Talk

0
27,667pages on
this wiki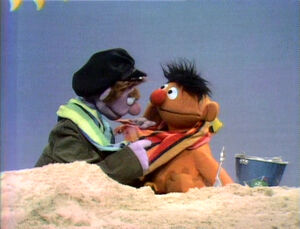 Muppet & Kid Moments: Grover and his friend Debo notice the letter "S" sitting on a brick wall. Grover exclaims that the letter is an old friend, and shouts, "Hey, S, babyyyy!" and slaps it off the wall. He remarks, "I hope he did not take that personally." (EKA: Episode 2488)
While standing next to a tree being cut down, Professor Grover talks about the importance about listening... especially if the sound indicates some kind of danger.
A tough guy named Tough Eddie accidentally knocks over Bert's sand castle while he's sleeping. Ernie points that out to Eddie, and Eddie tells Ernie, in a threatening tone of voice, that he's "got something" for Bert. It turns out to be an ice cream cone. (EKA: Episode 0774)
The Two-Headed Monster finds a piano and decides to play it. The left half wants to play short notes, while the other half prefers to run his fingers across the keyboard. They decide to cooperate, and both use their notes to play "Chopsticks".
In the park, Bert overhears the sound of a tuba - his favorite instrument. It's actually Simon Soundman, who's "just practicing." Bert begs Simon to teach him how to make that sound himself, but Bert ends up attracting Gladys the Cow, who thinks she heard the romantic call of a bull. (EKA: Episode 2404)
Cartoon: ¿Que es esto? (una vaca)