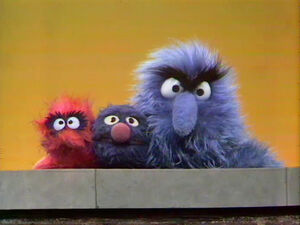 Cartoon: What if an anteater had the features of a giraffe? (EKA: Episode 0837)
The Bellhop is told that there are two kids, Betty and Bobby Blobby, who are lost in the lobby, and he must help them find their parents. (EKA: Episode 2503)
John Moschitta, Jr. plays Porter Pepper of Peter Piper "P" Products, which produces products that begin with the letter "P". He mentions that two of his clients were Peter Pan and Pablo Picasso until Peter Piper, the boss, gives him a phone call. Pepper now presents a new problem: Peter Piper "P" Products has been purchased, and is now Sam Singer "S" Stuff Store. Pepper, without stalling, summons his staff to stand by, switches his products to stuff, and searches for snacks and saucers.
Animation: An orange pops out of a basket of fruit and gets "made up" as the face of Carmen, the role in the opera of the same name. While singing, Carmen loses her "face" and can't resume singing until the wig returns. (EKA: Episode 0277)
Cartoon: A letter "P" sits on an island before a rotating sunset. The ridges of the letter "P" moves along the letter and flash in different colors.