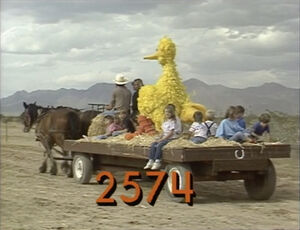 Picture
Segment
Description




SCENE 1
Mrs. Figueroa, Maria's mother, is visiting from Puerto Rico! Luis shows her pictures documenting Maria's previous doctor visit down to every last detail.




SCENE 1
cont'd
In flashback, we see how trigger-happy Luis can be with a camera. He's also good at planning ahead, maybe a little too good.

SCENE 1
cont'd
Still in flashback, Luis reveals to Big Bird that "today is the day when I take the very first picture of our baby."

SCENE 1
cont'd
Back in the present, we come to the picture Luis took of Maria and Big Bird missing the bus.

Cartoon
A mother bird brings her babies a huge number 12.
(EKA: Episode 0827)




Muppets
Ferlinghetti Donizetti delivers "The Easy Rhythm Rappin' Alphabet" while Grover displays his super smooth break-dance moves.
(EKA: Episode 2234)




Film / Cast
Gordon hangs out in a classroom. He joins the kids and the teacher as they play with an elastic rope and get into different shapes.
(EKA: Episode 1068)

Muppets
Kermit the Frog, Shola, and Fannie demonstrate "next to."
(EKA: Episode 0810)

Cartoon
B - Beard
Jeff Hale
(EKA: Episode 1538)
This segment was cut from the Noggin version.




SCENE 2
While still looking at pictures, Mrs. Figueroa asks if they finally got to see the baby. Big Bird chimes in, and we dissolve to another flashback.




SCENE 2
cont'd
In flashback, Big Bird, Luis, and Maria arrive at the maternity clinic, and Luis seizes the opportunity to get a picture of the nurse. But it doesn't stop there: he even gets one of them sitting down! Big Bird thinks that maybe telling him a story would suppress his urge to take so many pictures, but such is not the case.




SCENE 2
cont'd
Maria feels the baby move, which gives Big Bird the idea to continue telling his story to it.

SCENE 2
cont'd
Back in the present, Mrs. Figueroa sees the picture Luis took of Maria after the baby moved. He remarks, "Well, it's hard to tell that it's moving in that shot." and gets strange looks.

Cartoon
Edgar Turtle sings "Green Grow the Rushes, O."
Artist: Jeff Hale
(EKA: Episode 2440)




Muppets

While Ernie is away visiting the Count, Bert has the place all to himself, or so he thinks! A group of sheep burst into the room and proceed to sing him a song ("Bert's Blanket") about how his blanket was made (with a flashback scene where Ernie is portrayed as a farmer). He then corrects them on the actual production phase.
(EKA: Episode 2447)

Cartoon
In rhyme, a man points out animals who stole and/or ruined his clothing.
(EKA: Episode 0971)

Film
B is for Bubble
(First: Episode 0008)

Cartoon
The Great Inventors Series: John Montague, Earl of Sandwich, invents a new type of food that can be eaten while playing cards.
Artist: Bruce Cayard

Celebrity
Itzhak Perlman and a little girl observe their strengths and weaknesses.
(EKA: Episode 1563)

Cartoon
Blue and pink characters fight for a spot on the subway, until Pink spots an open seat.
(EKA: Episode 1136)

SCENE 3
Once again, Big Bird insists on telling the whole story of getting to see the baby.

SCENE 3
cont'd
In flashback, Dr. Kapi displays the ultrasound machine, which is a special device that allows the baby to be seen on a small TV monitor. It is displayed on there as Dr. Kapi points out its parts.
At this point, she refers to it as a male, even though its gender is unknown.




SCENE 3
cont'd
Luis grabs a snapshot as we fade back to the present.

Song
Joe Raposo sings "What Are Kids Called?"
(First: Episode 0116)

Cartoon
An orange ball tries to pet a green one, which growls, scaring it away.
This segment was cut from the Noggin version.




Muppets
Guy Smiley hosts "The Eating Game", in which plates get to meet foods and take them to dinner. The contestant foods are a fish, an ear of corn, and a glass of milk.
(EKA: Episode 2375)

Cartoon
Speech Balloon: T for train
(First: Episode 0022)
This segment was cut from the Noggin version.

Film
A baby messes around (literally) with a chocolate cookie, as Cookie Monster (in voice-over) wishes it was for him.
(First: Episode 0407)
This segment was cut from the Noggin version.

Cartoon
The Ringmaster has 12 frenzied finches.
(EKA: Episode 1575)
This segment was cut from the Noggin version.

SCENE 4
Mrs. Figueroa has a surprise for her soon-to-be-born grandchild: the blanket that Maria used when she was a baby.

SCENE 4
cont'd
In song, Mrs. Figueroa expresses how proud she is that "My Baby's Going to Have a Baby."

SCENE 4
cont'd
In case it's a boy, there's another blanket for that.

Cartoon
How they say "good night" in Haiti and in India.
(EKA: Episode 2062)




Cast
The Heartstrongs, Part 1

In this soap opera parody, Mr. Heartstrong (Gordon) fusses over the loss of his red shoelace along with Mrs. Heartstrong (Susan). They both feel sad until their son Barnaby (David) comes downstairs! What a surprise! But that feeling doesn't last long, as he soon learns of the lost shoelace. As it turns out, he came downstairs to change shoelaces in order to play baseball.

Could this be a clue to the whereabouts of Mr. Heartstrong's lost one?

(EKA: Episode 2163)

Film
At a zoo, monkeys clean each other and run around.
Music: Joe Raposo
(EKA: Episode 2505)




Cast
The Heartstrongs, Part 2

In the thrilling conclusion, the doorbell rings! Who could it be at the door?

It's Cousin Henry (Uncle Wally), who drops in for a surprise visit, which quickly becomes somber when the lost shoelace issue is brought up again.

Just then, Mr. Heartstrong remembers what Barnaby said about a shoelace that didn't match, and as luck would have it, the missing one is in his left sneaker! This makes everyone happy!

Cousin Henry pulls the snake-in-the-can trick on Barnaby, which gives everyone another nice surprise! "Woo woo!"

(EKA: Episode 2163)




SCENE 5
Snuffy approaches Maria and Mrs. Figueroa with a problem: Alice won't go to sleep. Mrs. Figueroa has a solution: the lullaby she used to sing to Maria ("Duermete, Mi Niña").

SCENE 5
cont'd
It doesn't work on Alice, "but it did on somebody else..."

Muppets
Ernie and Bert: Ernie's Love Boat
(EKA: Episode 2485)

Cartoon
A pink circle splits into a cat, and a gray circle splits into a mouse.
(EKA: Episode 1129)

Muppets
Sesame Street News Flash: Kermit interviews some colonial American citizens who are participating in the Boston "T" Party. Rather than tea, they drop things that begin with the letter "T" in the water instead!

SCENE 6
Big Bird tells the baby what he'll have for dessert: birdseed.




SCENE 6
cont'd
Mrs. Figueroa decides to try talking to the baby herself. Snuffy announces the sponsors.
Notes
In the Japanese broadcast of this episode, the scene where Mrs. Figueroa sings to Alice in Spanish was replaced by Swamp Mushy Muddy, a buffalo cartoon, and a "T - Typewriter" cartoon where a red figure jumps on typewriter keys.