Episode 2503
Talk

0
27,667pages on
this wiki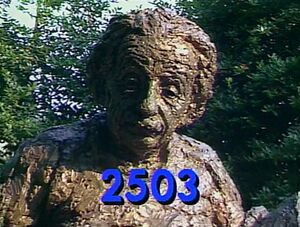 Picture
Segment
Description

Insert

Snuffy shows Susan and some kids how to do "The Snuffle Shuffle."
(EKA: Episode 2405)

Film

Colored sand forms the letter B and a boat.

Muppets

Ernie and Bert: Ernie comes home to a sleeping Bert and tries to think of things to do that won't wake him up. He can't watch TV, and he can't play with his ball. Bored, he decides to take a nap too -- but then he starts to snore. This awakens Bert, who wonders out loud where the noise is coming from, in the process arousing Ernie, who gets mad at being woken up.
(First: Episode 0280)

Film

Armadillos on film
(EKA: Episode 2488)

Muppets

Grover and Mr. Johnson: Grover the messenger goes to Mr. Johnson's home to deliver some singing telegrams. After reading a series of wrong telegrams, he reads another one that actually is for Mr. Johnson, and an important one at that, but Grover does not remember who it is from.
(EKA: Episode 1916)

Cartoon

Two Farm Animals
Artist: Owe Gustafson
(EKA: Episode 1836)

Muppets / Celebrity

Baseball fan Telly is looking at his cards when he sees a familiar face stop by. He asks the man to pose for him, to compare him to the card on which he [Telly] thinks he's seen the man. He realizes that it is indeed Ron Darling of the New York Mets, and Telly asks him to read his own card.

Cartoon

Shorty reaches a water fountain with a stool.
(EKA: Episode 0984)

Film

Lobster fisherman
(EKA: Episode 0966)

Muppets

The Miss Muffet Play
(First: Episode 0280)

Cartoon

The Bellhop is told that there are two kids, Betty and Bobby Blobby, who are lost in the lobby, and he must help them find their parents.

Film

In Alaska, a sculptor makes carvings of cold climate animals.
Music: Joe Raposo
(EKA: Episode 2365)

Cartoon

An ant is pressured by his peers to finish the anthill all by himself, until he enlists the cooperation of the others.
(EKA: Episode 2173)

Insert

Maria sings a counting song and game that teaches the kids to count in Spanish.

Film

To a jazz rhythm soundtrack, the camera zooms in on flowers growing on a tree.
(EKA: Episode 0842)




Muppets

Game Show: The How Many Game??
Guy Smiley tells The Two-Headed Monster to find two things in 30 seconds. They bring one bowling ball, four sheep and three cows, all of which don't count. Suddenly, they realize they have two heads, which means they win! Little Bo Peep appears looking for her sheep, a train appears out of nowhere, and the scene ends in chaos.

Cartoon

Building a dog house is easy if you have a ruler.
(EKA: Episode 0824)

Film

A girl wants to learn a playground rhyme after watching some other girls do it, so one of them teaches her.

SCENE 1

The Count has written his own version of "Sleeping Beauty," in which he and Gladys the Cow will be starring. As he makes the costumes, Gordon and the kids help measure her body.

Cartoon

The O falls off a man's grocery store sign; he tries replacing it with a donut, then a pizza, neither of which works. Finally, the sign man paints it on.
(EKA: Episode 1854)

Cast

Live at Sesame Hall, Bob, Maria, and Luis sing "The Curious Cantata" about a bird who asks a lot of questions, played by the ever-curious Big Bird.
(EKA: Episode 2238)

Cartoon

An O rolls over and over a horse. The horse eats the O.
(EKA: Episode 0198)

Muppets

Sesame Street News Flash
Kermit, using a pull-down map, tries to give everyone directions to Little Red Riding Hood's grandmother's house. No one listens to Kermit. In the end, Red joins her grandmother, the Big Bad Wolf, and a cab driver for a picnic.

Film

Flamingos
Music: Joe Raposo
(EKA: Episode 0817)

Cartoon

Letter B/b (bouncing circles)

SCENE 2

Gladys and the Count begin rehearsing the play. Gladys is not in favor of having to snore, especially when all the Count does is count the snores. She quits and the Count decides to hire Meryl Sheep instead.

Cartoon

Animals walk.
(EKA: Episode 0926)




Muppets

The Oinker Sisters sing "A New Way to Walk."
(EKA: Episode 2455)

Song

"B is for Bubble."
(First: Episode 0008)

Cartoon

"Wash Your Hands Before You Eat"
Artist: Bruce Cayard




SCENE 3

Gordon narrates the Count's story. The prince (Count) finds the sleeping princess (Meryl) and counts her snores. His thunder and lightning wakes her up, but she'd rather "baa" than count with him. They cooperate by letting him count her baas. After the play, Gladys barges in and claims her mooing would've been better. The two females argue over their respective sounds, while the Count counts them and Gordon announces the sponsors.