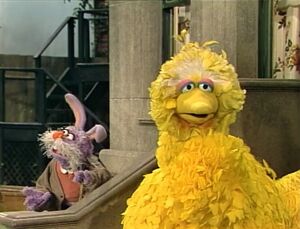 Picture
Segment
Description




SCENE 1
Big Bird welcomes the viewer to Sesame Street, and finds Professor D. Rabbit sitting there, listening. The professor offers to teach Big Bird how to be a super listener, and Big Bird opens his ears. They hear something squeaking, then someone singing. It turns out to be Mr. Macintosh, who wheels the old cart of fresh produce, and stops to give the professor a carrot. The professor remarks, "Some people listen for the ice cream man; I listen for the carrot man!" Big Bird listens as the professor crunches loudly on his carrot.

Song
"Paying Attention Song" (Charlie Tyson)
(EKA: Episode 1101)

Muppets
Sesame Street News Flash: The first day of school in history
(EKA: Episode 2376)

Cartoon
An ostrich is born on a football field, and learns that he can't fly. He saves the game by scoring the winning touchdown.

Film
Over (silent film)
(EKA: Episode 1451)

Muppets
The Count sings "That's What Counts" about the ten things most important to him.

Film
Animal camouflage (kid VO's)
Music: Joe Raposo
(EKA: Episode 0852)




SCENE 2
Bob encounters Big Bird and the Birdketeers sitting on the steps, listening for all the sounds they can hear. They hear a trumpet, a balloon popping, an alarm clock, and the crunching of a carrot. They soon find out that the professor was making all those sounds nearby. He rewards the kids with a carrot for being good listeners.

Cartoon
A heart that says "I love you" is drawn.
(EKA: Episode 2140)

Muppets
Ernie sings "Do What I Do" with Sandy the Snake in an effort to explain how actions can express emotions. However, Sandy finds it difficult to do what Ernie does, since snakes don't have limbs.
(EKA: Episode 1277)

Cartoon
A postal worker tells the viewer what the post office is good for.
Artist: Cliff Roberts
(EKA: Episode 0929)

Film
The Mad Painter #10
(EKA: Episode 0350)

Cartoon
Different uses of a triangle (Spanish version)
(EKA: Episode 1800)

SCENE 3
Oscar tries to play a prank on Telly with a "pull" sign on a string. Telly has difficulty reading the sign, and the trick backfires on Oscar.

Cartoon
A man saws a letter E through the wall.
(EKA: Episode 0409)

Muppets
"The Dirtiest Town in the West"
(EKA: Episode 1406)

Cartoon
11 gumballs minus 4 equals 7.
(EKA: Episode 2365)

Film
College students volunteer at the San Francisco Children's Zoo, which has such animals as ferrets, opossums, and chinchillas.
Music: Joe Raposo
(EKA: Episode 2227)

Cartoon
A salesman offers a passerby the letter N for next to nothing.
Artist: Cliff Roberts
(EKA: Episode 2283)

Muppets
Two-Headed Monster: HONK
(EKA: Episode 2257)

Cartoon
A man appears out of a yo-yo string and narrates two poems about over, under, around, and through.
Artist: Jeff Hale

Insert
Oscar reads a love "trash poem" to Maria.
(First: Episode 2140)

Cartoon
A female head is drawn as its voice-over lists its parts, ending with earrings that "do nothing" ... and promptly wiggle around.
Artist: James Rizzi
(EKA: Episode 0821)

Muppets
Ernie & Bert: Ernie enjoys watching Bert read a book, but Ernie's staring at him is driving Bert bananas.
(EKA: Episode 2282)

Cartoon
Kids see animals in their alphabet soup.
Artist: Michael Sporn
(EKA: Episode 2003)

Muppets
Anything Muppets (including Farley) shout "E!"
(EKA: Episode 1446)

Cartoon
Two kids argue over a cat and a dog, who chase each other around the fence.
(EKA: Episode 1210)

Muppets
Harry Belafonte and The Count sing "Coconut Counting Man."
(EKA: Episode 1706)

Cartoon
A rabbit crosses the STREET, and almost gets run over.
(EKA: Episode 0814)

SCENE 4
Bob finds Elmo climbing the Sesame Street sign post. Elmo explains that he's been reading all the signs he sees so he can become a good reader. Bob gives him a clue about the sign he's currently trying to read: there are two words in the sign, the first one being "Sesame." Elmo makes some wild guesses about the second word ("Noodle! Pizza! Doorknob!"), but then Bob points it out to him. Elmo really likes the sign, and asks Bob to help him down.

Animation
Lollipop and feathers - what goes where?
(EKA: Episode 1057)




Muppets
Camp Wannagohoma: Grover tries to show the campers what is alive in the forest, but they keep correcting him.
(EKA: Episode 2163)

Cartoon
Pinball #10
Artist: Jeff Hale
(First: Episode 0990)

Film
"Listen ..." to various sounds, including the ocean, a heart beating, a clock ticking, a horse galloping, crickets chirping, a passing train, and others.
(EKA: Episode 0977)




SCENE 5
The professor wakes up from his nap, and suddenly says he's starting to hear music ... which turns out to be the closing theme music. He explains why he's such a good listener: "I close my eyes, concentrate, and I have ears the size of hockey sticks!" Bob announces the sponsors.