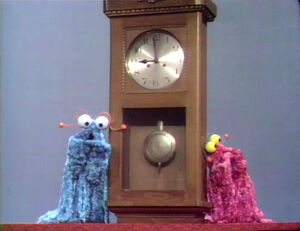 The Martians discover a grandfather clock and wonder if it's an earth person. They consult their book, which says an earth person is tall, has a face, and has hands. The clock fits the description perfectly. But then the grandfather clock begins chiming the hour, frightening the Martians. (First: Episode 0407)
Telly, dressed in winter gear, sounds out the word "COLD", then gets caught in a blizzard.
Ernie has put a cookie on a lever, half of which is in a glass cage, diagonally, and wants to see if Cookie Monster can figure out how to get the cookie. Ernie will reward Cookie Monster with a box of cookies under two conditions - by not destroying the display and without his help.
Muppet & Kid Moments: Grover talks to Chelsea about what their ears, eyes, nose, and mouth can do. Chelsea mentions that they both have them and also have feet, hands, bellies, necks, arms, backs, and shoulders. Grover replies they have a cornucopia of parts, which means they have a lot of good stuff.
In the park, Bert overhears the sound of a tuba - his favorite instrument. It's actually Simon Soundman, who's "just practicing." Bert begs Simon to teach him how to make that sound by himself, but Bert ends up attracting Gladys the Cow, who thinks she heard the romantic call of a bull. (EKA: Episode 2404)