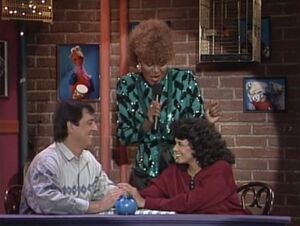 This episode guide has been compiled from incomplete video material.
Picture
Segment
Description

Film
Seashells form various patterns in the sand.
(EKA: Episode 2256)

Muppets / Celebrity
Big Bird introduces Yo-Yo Ma, who plays cello with two Honkers and a Dinger.

Cartoon
Six turtles plus one man equals seven.
Artist: Owe Gustafson

Insert
Mr. Snuffleupagus is invited to jump on Big Bird's trampoline, and the Count decides to count how many times Snuffy jumps. He counts a total of 19 1/2 -- his last jump bounces him to the top of 123 Sesame Street!
(EKA: Episode 2362)

Film
Footage of a sunflower seed factory, where birdseed bells are manufactured.
(EKA: Episode 2208)

Cartoon
A dog answers "Yes" to every question.
(EKA: Episode 1246)




Muppets
While Ernie is away visiting the Count, Bert has the place all to himself, or so he thinks! A group of sheep burst into the room and proceed to sing him a song ("Bert's Blanket") about how his blanket was made (with a flashback scene where Ernie is portrayed as a farmer). He then corrects them on the actual production phase.

Film
Sesame Street Animal Films: Elk feeding.
Music: Robert Dennis
(EKA: Episode 1118)

Muppets
Muppet & Kid Moments: Forgetful Jones asks Daniela if she will tell him the word on a sign, which says "Yes". But every time she tells him the word, he thinks she is saying yes to telling him the word.
(EKA: Episode 2176)

Cartoon
Shooting stars form the letter I/i.
(EKA: Episode 2291)

Muppets
Bip Bipadotta leads "Scratch My Back" as a song about two monsters named Jack and Jill who swear that they will always be there to scratch each other's backs.
(EKA: Episode 2424)

Cartoon
David reminds a boy to wash his face and brush his teeth before going to bed.

Film
A boy visits the hospital to see his mother's new baby.
(EKA: Episode 1125)

Cartoon
The weary traveler asks the wise man to demonstrate none, some, most and all with a basket of oranges.
(EKA: Episode 1008)




SCENE
As the Birdland house band wraps up their song, Placido Flamingo appears to fill the empty seat at Luis' table. Luis tells him it's reserved for Maria, who's running late. Placido tries to guess how he feels with samples from different operas he's performed in, in which the lead reacts to waiting in different ways. Maria finally arrives (just having given Uncle Wally his blender) and Luis is relieved he doesn't have to sit through another of Placido's songs, until he starts singing about a blender.

Film
Bus trip around town (guitar soundtrack)
(EKA: Episode 0926)

Muppets
"The Rhymies at Sea" - Larry, Mary and Barry sail on a ship, which sinks.
(EKA: Episode 1162)

Cartoon
Gloria sings the alphabet (uppercase version)
(EKA: Episode 0263)

Muppets
Ernie and Bert search for Dr. Livingstone in the jungle.
(EKA: Episode 1736)

Cartoon
Y for Yak
Artist: Jeff Hale
(EKA: Episode 1858)

SCENE
Olivia is gearing up for her act and is recommended the Birdberry cookies. Her snide waiter tells her they have zero cookies and zero oranges. She orders some water instead, but they have zero cups.

Cartoon
Cat / fat / hat / sat / rat / bat / scat / splat / flat / pat
(EKA: Episode 0814)

Muppets
Old West: Sinister Sam announces that someone has bought the last box of crayons, and he wants to know why. It turns out that he just wants a crayon so he can learn how to write the letter Y.
(EKA: Episode 1708)

Cartoon
A boy can yell and yodel, and his dog can yelp and yowl. They can both yawn.

Film
David (in voice-over) finds rectangles.

Cartoon
"Seven Sweet Sopranos" on a shaky piano
Artist: Paul Fierlinger
(EKA: Episode 2358)

SCENE
Athena introduces Olivia, who sings "Lovebirds" to the feathered couples, as well as Maria and Luis.

Cartoon
What if we celebrate Valentine's Day with chickens instead of hearts?
(EKA: Episode 0815)

Muppets
The Two-Headed Monster finds a newspaper.
(EKA: Episode 2122)

Cartoon
Four plus one makes five.
(EKA: Episode 1448)

Film
Saxophone factory
(EKA: Episode 1446)

Cartoon
Capital I, he's quite a guy
(EKA: Episode 0815)

SCENE
Ad blocker interference detected!
Wikia is a free-to-use site that makes money from advertising. We have a modified experience for viewers using ad blockers

Wikia is not accessible if you've made further modifications. Remove the custom ad blocker rule(s) and the page will load as expected.