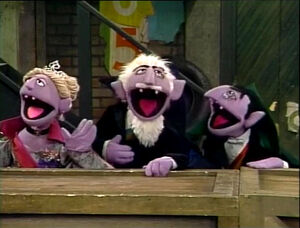 Count von Count introduces Luis to his grandparents, who also love to count. In song, they demonstrate that while the Count's counting elicits thunder and lightning, Grandpa Count's counting brings snow, and Grandma Count's counting brings rain. When they count together, then comes all the weather.
Notes
This episode was taped on September 16, 1987 and was directed by Jon Stone.
Ad blocker interference detected!
Wikia is a free-to-use site that makes money from advertising. We have a modified experience for viewers using ad blockers

Wikia is not accessible if you've made further modifications. Remove the custom ad blocker rule(s) and the page will load as expected.