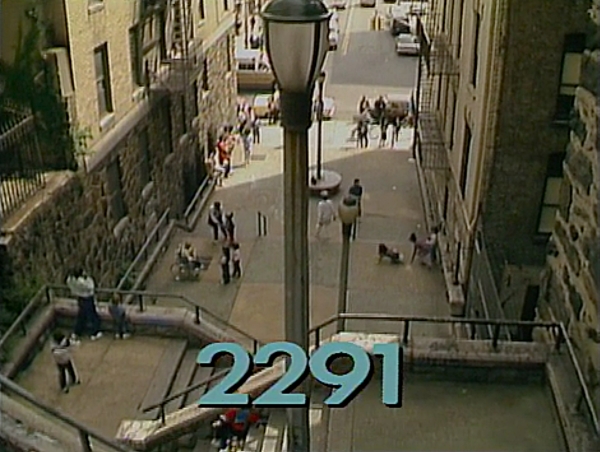 Picture
Segment
Description




SCENE 1
(insert)
Big Bird wishes Luis, Gordon, the kids, Mr. Macintosh, Barkley, Olivia, and the viewer good morning. He sings "Good Morning Mr. Sun" afterwards.

Cartoon
E for Erase.
(EKA: Episode 0666)

Muppets
Kermit shows what's inside of Herry Monster using an X-ray machine.
(EKA: Episode 2254)

Cartoon
Hockey player (Spanish).
(EKA: Episode 2228)

Film
David asks the viewer to find a rectangle and two circles in the picture of a doorbell.
(EKA: Episode 0888)

Muppets
A female Anything Muppet goes shopping for a fur coat and ends up wearing a monster (Cookie Monster, to be exact).
(EKA: Episode 0152)

Cartoon
Knights use different words for "big."
Aritst: Fred Garbers

Insert
Big Bird uses a grown-up's hand to cross the street -- don't leave home without one.
(EKA: Episode 2061)

Cartoon
Funny 4.
(EKA: Episode 1927)

Song
"Hello, Scale," a film about measuring weight.
(EKA: Episode 0849)

Muppets
Ernie and Bert: Ernie keeps taking glasses of water outside the apartment. Bert thinks of possible uses Ernie could have for this water. As it turns out, the kitchen faucet is broken, and Ernie's trying to get rid of the water before the apartment floods.
(EKA: Episode 0669)

Cartoon
Un pajaro.

Film
The kids form a capital I.
(EKA: Episode 0592)

Cartoon
A lost man describes what a city is to a man who turns out to be an alien.
(EKA: Episode 0811)

Muppets
A square monster tires to learn the "In and Out" disco dance.
(EKA: Episode 2159)

Cartoon
Shooting stars form the letter I/i.

Insert
Gordon reads the kids Home Run on the Range starring Forgetful Jones.

Cartoon
Sandbox I/i.

Film
A baby messes around (literally) with a chocolate cookie, as Cookie Monster (in voice-over) wishes it was for him.
(First: Episode 0407)

Muppets
Snow White accidentally visits the cottage of the six dwarves.
(First: Episode 0279)

Cartoon
The Bridgekeeper: Square
(EKA: Episode 2205)

Film
Maria (as Charlie Chaplin) tries to throw away a newspaper into a rapidly moving litter can. When she finally does, the exit door also moves and she breaks down the wall.
(EKA: Episode 2173)

Cartoon
Find the camouflaged parrot.
Voice: Paul Dooley
(EKA: Episode 0592)

Muppets
Oscar sings "Swamp Mushy Muddy".
(EKA: Episode 0748)

Film
(B&W) A girl escapes from quicksand.
(EKA: Episode 0853)

Muppets
Muppet & Kid Moments: Grover and Katie think of rhymes.

Cartoon
Four polka-dotted chickens emerge from an egg.
(EKA: Episode 0796)

Film
Wheelchair contestants compete at the Special Olympics.
(EKA: Episode 1836)

Cartoon
Big, bigger, biggest (balloons and blackbirds).
(EKA: Episode 1447)

Muppets
Sesame Street News Flash
Counting Battements with Suzanne Farrell.
(EKA: Episode 1957)

Cartoon
Jasper and Julius: Apple.
(EKA: Episode 0833)

SCENE 2
The Count tells Maria a counting love poem.

Film
Marching band plays 4.
(EKA: Episode 2269)

Cartoon
I hab a cauld ib by dose.
Artist: Bruce Cayard
(EKA: Episode 1186)

Muppets
"Muppets Rhyme in School."

Cartoon
A man explains that the letter E begins both Enter and Exit. Another man named Roy runs through the doors.
(EKA: Episode 0406)

SCENE 3
The Count stalks Maria with his poem.

Cartoon
A juggling bear helps a little girl learn to juggle.

Muppets
Ernie and Bert: At the beach, Ernie notices that Bert is missing; all he sees is Bert's hat. Sherlock Hemlock helps find Bert, and in the process, discovers that Ernie accidentally buried Bert under the sand.
(First: Episode 0278)

Cartoon
A man tries to push a huge balloon elephant through a narrow doorway, and a girl helps him by deflating it.
(EKA: Episode 2179)

Song
"Beet Beet, Sugar Beet."
(EKA: Episode 1219)

Cartoon
"I in the Sky."
(EKA: Episode 0427)

SCENE 4
The Count telephones Maria and it rains in her apartment.
Ad blocker interference detected!
Wikia is a free-to-use site that makes money from advertising. We have a modified experience for viewers using ad blockers

Wikia is not accessible if you've made further modifications. Remove the custom ad blocker rule(s) and the page will load as expected.