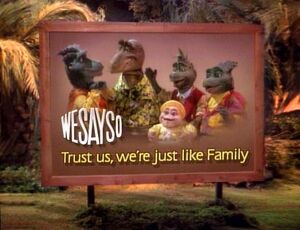 To improve its public image, the WESAYSO Corporation picks the perfect employee family to be featured in their company advertisement. Earl's dream comes true when his family is chosen, but WESAYSO feels Roy has more audience appeal. When the ad campaign is a hit, Earl moves out of his own house so Roy can move in. Is Earl expendable? Will Roy crack under the strain of parental responsibility? Will Earl allow his family and best friend to be successful without him? Yep. Yep. Not a chance.
Guest Stars
Notes
Taped on February 24, 1992
Video releases
Ad blocker interference detected!
Wikia is a free-to-use site that makes money from advertising. We have a modified experience for viewers using ad blockers

Wikia is not accessible if you've made further modifications. Remove the custom ad blocker rule(s) and the page will load as expected.