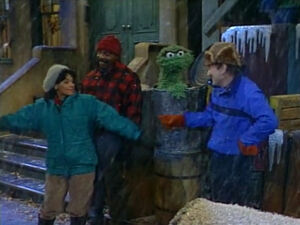 Telly discovers that his glass of water has turned into ice, due to the cold weather.
Cartoon: A large bird munches on rectangle edges, making it the word "BIRD." (EKA: Episode 1190)
At nightime, some kids play in the courtyard. While Bob, Gordon and Maria enjoy the snow, Oscar the Grouch tries to ruin it for them by mentioning the negative facts about snow like snow balls and cars getting stuck. Elmo announces the sponsors.
Notes