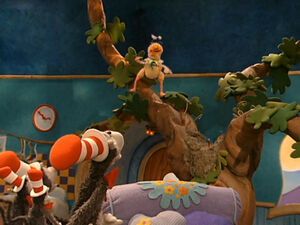 In the Cat's Playhouse, the Cat in the Hat shows many ways of getting around. Terrence McBird claims flying is the best, but refuses to teach the Cat how. The Cat later employs the help of Fox in Socks and Mr. Knox to help him become more bird-like.
Meanwhile, in The Jungle of Nool, we see how different creatures get around. Also, Sarah Hall-Small runs in a Seussville race where people use all kinds of ways to get around, including rolling and bouncing.
Songs
Ad blocker interference detected!
Wikia is a free-to-use site that makes money from advertising. We have a modified experience for viewers using ad blockers

Wikia is not accessible if you've made further modifications. Remove the custom ad blocker rule(s) and the page will load as expected.