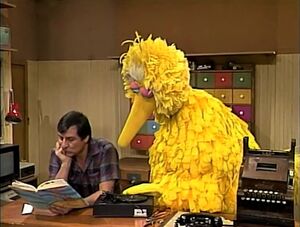 Kermit tries to demonstrate what round is, with the help of a wisecracking ball. He introduces Kermit to his "daddy," a basketball. (First: Episode 0107)
The Count sleeps in Bert's bed while Bert sleeps on the couch. Ernie tells The Count that he can count sheep to get to sleep, but it never dawned on Ernie that the Count never gets tired of counting. He stays up all night counting sheep, to Ernie's detriment. The next morning, The Count has had a good night, but he didn't sleep. His counting kept Ernie up, and now Ernie is walking and counting like a zombie. (EKA: Episode 0914)
Cartoon: What's missing? (parrot)
While fixing Big Bird's record player, Luis tells him of a story he's reading about Captain Swashbuckle, a pirate. He tells Big Bird a synopsis of what he's read so far, but Big Bird throws several ideas what happens next, such as Swashbuckle having run-ins with a giant fish and bird. Luis reads him the remainder of the story: Captain Swashbuckle is sailing in a storm, when Luis' phone rings, and he must put the story on hold. Big Bird then thinks up the obvious ending - the bad guys call Swashbuckle and call off the fight because of rain.
Herry Monster is a contestant on Guy Smiley's game show "The Addition Game," in which Herry has to add items. Herry is unsure of the last addition problem, so he brings a few cars into the studio to add them up. (EKA: Episode 0890)
Ernie wakes up and tells Bert it's time to get up, but notices that Bert isn't in his bed. He slowly ponders what happened to his best friend, coming to the conclusion that maybe some Martians took him away in their spaceship. As it turns out, Bert just got up early to fix some oatmeal. Ernie is relieved ... until a real spaceship lands and the Yip Yip Martians enter the room. (EKA: Episode 2107)
The Two-Headed Monster sound out the word "FALL" and witness leaves falling. They then do the same.
Snuffy brings his TV over to Big Bird's nest so that he, Big Bird, and some kids can work out along with Jane Snuffleupagus.
Elmo sits outside the library and Luis is too indulged in his book to notice him. Elmo decides to read too and reads the "CLOSED" sign on the library door. Micki is about to close it up for the night when Luis begs her to re-open so he can return his book. Everyone else notices this and thinks the library's still open. Since it's not being used, Elmo asks Micki for the "CLOSED" sign.