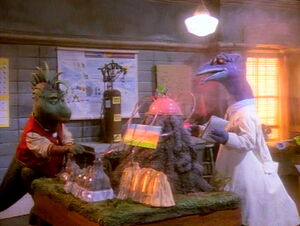 As a science project for school, Robbie comes up with an idea for tapping the geothermal energy of volcanoes to heat the homes of all Pangaea. The idea is taken seriously by the government and Robbie seems to be a hero, except that his plan for free energy threatens the business interests of the WESAYSO Corporation which sell energy for a profit. When WESAYSO puts the screws to Earl to squash his son's idea, Earl is put in conflict with Robbie.
Guest Stars
Notes
Video releases
Ad blocker interference detected!
Wikia is a free-to-use site that makes money from advertising. We have a modified experience for viewers using ad blockers

Wikia is not accessible if you've made further modifications. Remove the custom ad blocker rule(s) and the page will load as expected.