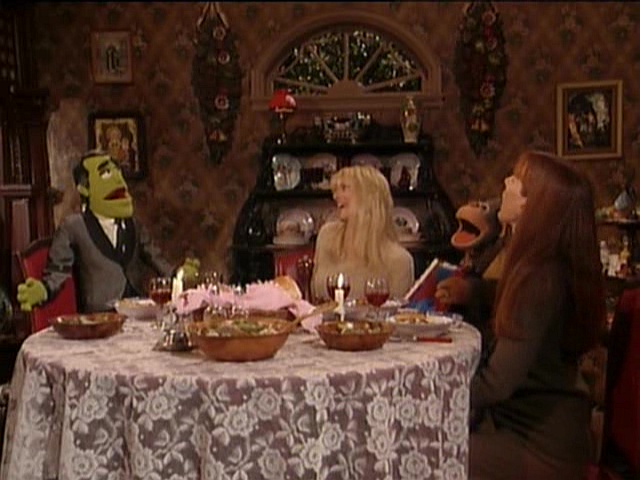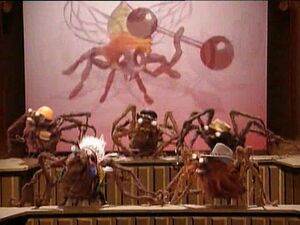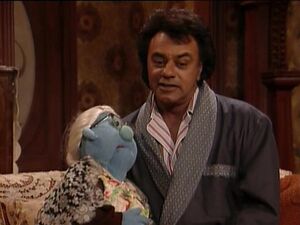 Following a spat with his mama, Johnny Fiama leaves home. Daryl Hannah, Page Hannah, and Johnny Mathis make cameo appearances.
Skit Highlights
Notes
A clip of Kermit singing "Once in a Lifetime" from episode 109 can be seen on the screens of the KMUP control room.
Later on, a clip of Great Moments in Elvis History from episode 101 can be seen on the screens of the control room.
The official episode guide at Henson.com referred to the episode as "Johnny Fiamma Leaves Home," indicative of the back-and-forthing on the spelling of the character's name during the series.
This show was distinct from other episodes, and many of the show's writers and performers felt that this episode was the one where they finally got the formula right. They felt that the show had finally evolved to something exceptional and had "found itself". Steve Whitmire was one of the many to comment on the change, stating in a 1999 interview that "The idea of putting on a show was based on The Muppet Show, but now they were doing it on television. It just didn't seem to work for Muppets Tonight, but all of a sudden we were doing the show with Johnny Fiama at home, where it was outside of the studio, and it seemed to work really well." Ironically, it was the last episode of the show.
This is the final time Clifford is shown without his shades.
Performers
Cast
Muppets:
Johnny Fiama, Sal Minella, Mama Fiama, Statler and Waldorf, Bill the Bubble Guy, Big Mean Carl, Nigel (Muppets Tonight), Andy and Randy Pig, Bobo the Bear, Sam the Eagle, Dr. Phil van Neuter, Mulch, Mr. Poodlepants, David Hoggselhoff, Zippity Zap, Belle the Bubble Mom, Carla the Big Mean Mom, Nigel's Mom, Zippity Zap's Mom, Village Spiders, Spamela Hamderson, Darci, Rizzo the Rat, Whatnots
Background Muppets:
Ad blocker interference detected!
Wikia is a free-to-use site that makes money from advertising. We have a modified experience for viewers using ad blockers

Wikia is not accessible if you've made further modifications. Remove the custom ad blocker rule(s) and the page will load as expected.