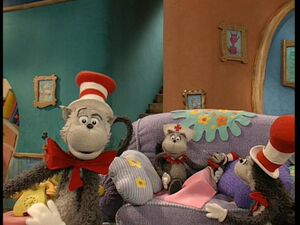 In the Cat's Playhouse, Little Cat Z is sick, and Terrence is afraid he'll catch his cold. It's up to the Cat and the Little Cats to show him how to stay healthy. In the Wubbulous World, Horton rescues and takes care of Sid Spider, much to the chagrin of Jane Kangaroo, who thinks that bugs are creepy and not friendly. We also meet Dr. Gazeat, who takes care of everyone in the Kingdom of Didd.
Songs
Video releases
Ad blocker interference detected!
Wikia is a free-to-use site that makes money from advertising. We have a modified experience for viewers using ad blockers

Wikia is not accessible if you've made further modifications. Remove the custom ad blocker rule(s) and the page will load as expected.