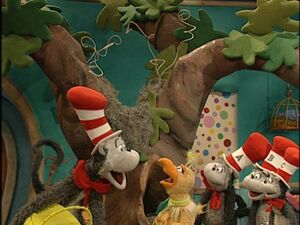 In the Cat's Playhouse, rain spoils plans for a picnic, but the Cat saves the day. In the Wubbulous World, Princess Tizz imagines where the most special picnic spot could be. Also, Morton and Junior's plans to explore the jungle to find the Maputo Bird are squelched when Junior gets a thorn in his paw. So Morton and Horton bring the jungle to Junior.
Songs
Video releases
Ad blocker interference detected!
Wikia is a free-to-use site that makes money from advertising. We have a modified experience for viewers using ad blockers

Wikia is not accessible if you've made further modifications. Remove the custom ad blocker rule(s) and the page will load as expected.