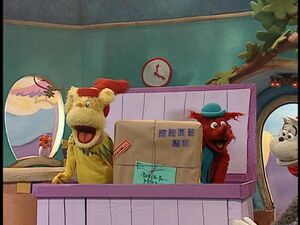 In the Cat's Playhouse, a mysterious box has arrived. Terrence is dying to see what's in it, but the Cat keeps him in suspense by stalling. In the Wubbulous World, Sarah Hall-Small imagines what it would be like to send herself to her Grandma Small's house by mail, and a determined Morton takes over for a tired Delivery Bird by delivering a very important package.
Songs
Video releases
Ad blocker interference detected!
Wikia is a free-to-use site that makes money from advertising. We have a modified experience for viewers using ad blockers

Wikia is not accessible if you've made further modifications. Remove the custom ad blocker rule(s) and the page will load as expected.