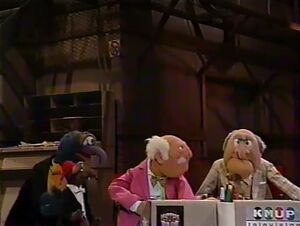 Gonzo and Rizzo host a collage of video clips of the best moments from past episodes. This was because the pre-recorded episode tape had been eaten by Carl, along with the tape-playing machine during a cheese-eating contest.
As Gonzo and Rizzo walk off the stage, they notice that Statler and Waldorf have just finished broadcasting their own show titled The Worst of Muppets Tonight. Of course, they showed the exact same clips that Gonzo and Rizzo showed.
Clips
Notes
This is the only episode not to have Clifford in it.
Performers
Cast
Muppets:
Ad blocker interference detected!
Wikia is a free-to-use site that makes money from advertising. We have a modified experience for viewers using ad blockers

Wikia is not accessible if you've made further modifications. Remove the custom ad blocker rule(s) and the page will load as expected.