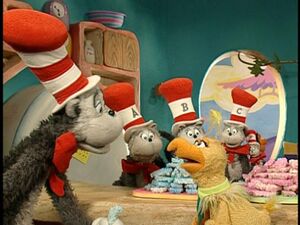 In the Cat's Playhouse, Terrence is being a picky eater, only wanting to eat red birdseed brickle. In the Wubbulous World, the King of Didd has outlawed Bimple Beans, Milo's favorite food, and Milo struggles to convince the king to keep the beans around. The Cat in the Hat also gazes at what everyone has for lunch in the Wubbulous World.
Songs
Video releases
Ad blocker interference detected!
Wikia is a free-to-use site that makes money from advertising. We have a modified experience for viewers using ad blockers

Wikia is not accessible if you've made further modifications. Remove the custom ad blocker rule(s) and the page will load as expected.