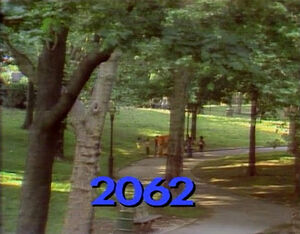 This episode guide has been compiled from incomplete video material.
Picture
Segment
Description

SCENE 1
Oscar refuses to say "Hello," but Telly tricks him into saying "Hola."

Cartoon
A wizard turns into R things.
(EKA: Episode 1015)

Cast
Maria and Luis perform "You Say Hola and I Say Hola."

Cartoon
Millie and Molly argue over whether to get a pet cat or a dog, so their mom gets them a turtle instead.
(EKA: Episode 2003)

Film
Animals fight.
Music: Joe Raposo
(EKA: Episode 0823)

Film
Scanimate Films #10.
version 1
(EKA: Episode 0261)

Muppets
Ice Follies version of Grover is asked by Kermit (voiceover only) to demonstrate Near and Far.
(EKA: Episode 1040)

Cartoon
Pinball #10
Artist: Jeff Hale
(EKA: Episode 1246)

Animation
George the Farmer is "near" when he's on a barrel; he's "far" when he's on the porch.
(First: Episode 0235)

Celebrity
Big Bird ask the Professor (Sid Caesar) why we have knees.

Cartoon
M is for Moo
Music: Larry Rosen and Chuck Myers
(EKA: Episode 0276)

Muppets
Clementine reminds Forgetful Jones to call his cousin on her birthday (even though he's got a ribbon tied to his finger and to the phone). When he calls, his equally forgetful cousin doesn't remember having a cousin, and asks him to describe what he looks like.
(EKA: Episode 1927)

Cartoon
An alligator and an elephant chat about how to remember their names.
(EKA: Episode 1836)

Muppets
An Anything Muppet boy and girl have a conversation using the letters of the alphabet.
(EKA: Episode 0267)

Film
A man makes a shadow puppet of an elephant.
(EKA: Episode 1118)




Muppets
Guy Smiley hosts the game show "What's My Part?". The contestant is Mr. Nose. The panelists -- Bennett Snerf, Arlene Frantic, and Cookie Monster -- don't know what a nose is, because none of them have noses.
(First: Episode 0131)

Cartoon
A conductor conducts a choir to hum his music ("My Music").
Artist: Paul Fierlinger
(EKA: Episode 1247)

SCENE 2
Gordon teaches Mario how to read "Mop" and "Tub" through song.

Cartoon
A woman fixes her car by putting a letter r under the hood, and it goes "Rrrrrrrrrrrrrrrrrrr!"
(EKA: Episode 0411)

Film
Traffic light.
(First: Episode 0131)

Muppets
Ernie eats one of Bert's cookies and doesn't know what to tell him. Bert observes that there are four cookies when there should be five. No matter how Ernie arranges them, there are still four cookies. Since Bert doesn't want to see four cookies, Ernie eats another one, making it three instead of four.
(EKA: Episode 0238)

Cartoon
A family of snakes makes shapes, and rolls away.

Film
What do birds eat?
(EKA: Episode 0514)

Muppets
At night, Grover thinks he hears noises in the dark. When he sees a shadow on the wall, he cowers under the covers - but the shadow turns out to be his Mommy.
(EKA: Episode 0397)

Cartoon
How they say "good night" in Haiti and in India.

Song
"I Can Do It By Myself"
(EKA: Episode 1736)




SCENE 3
The song is interrupted by a Monster on the Spot segment reporting on a "big breakfast" at Mr. Hooper's Store. Turns out Telly was actually supposed to report on a "big break-fest:" the breakdancing taking place just outside.

The previous song then resumes.

Cartoon
Two lines intersect at the middle of the screen and have an argument; they cooperate by making a cross.
(EKA: Episode 0276)

Muppets
Herbert Birdsfoot explains what the letters M and W look like with a very uncooperative letter that keeps switching itself. The letter eventually stops switching, and Herb solves the problem by rotating the camera angle, turning the letter upside down.

Cartoon
A boy puts a red and green monster together using a diagram.
(EKA: Episode 1105)

SCENE 4
Breakdancing featuring various body parts is shown, with Maria, Olivia, David and the children looking on.

Cartoon
Kids count dinosaurs, octopuses, and paper dolls.
(EKA: Episode 0926)

Film
Children of all kinds sing "We All Sing with the Same Voice."
(First: Episode 1708)

Cartoon
A woman serves milk to her cat. Several other cats join him, including a lion.
Artist: Bruce Cayard
(EKA: Episode 1102)

Muppets
Kermit's Lectures: Kermit watches some live bears do exercises.
(First: Episode 0044)
Ad blocker interference detected!
Wikia is a free-to-use site that makes money from advertising. We have a modified experience for viewers using ad blockers

Wikia is not accessible if you've made further modifications. Remove the custom ad blocker rule(s) and the page will load as expected.