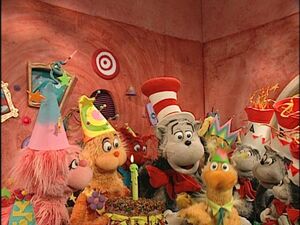 In the Cat's Playhouse, it's Terrence's birthday, and he thinks that everyone has forgotten. Actually, they're all planning his surprise party.
In the Wubbulous World, Felix Finkledooper celebrates an extra-special 8th birthday with the 8th Birthday Glurk, while Princess Tizz is sad because all of her birthday presents are too rare and precious to play with.
Songs
Video releases
Ad blocker interference detected!
Wikia is a free-to-use site that makes money from advertising. We have a modified experience for viewers using ad blockers

Wikia is not accessible if you've made further modifications. Remove the custom ad blocker rule(s) and the page will load as expected.