Ad blocker interference detected!
Wikia is a free-to-use site that makes money from advertising. We have a modified experience for viewers using ad blockers

Wikia is not accessible if you've made further modifications. Remove the custom ad blocker rule(s) and the page will load as expected.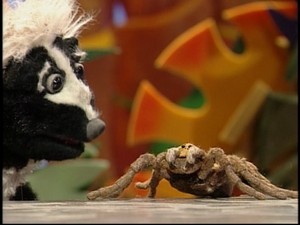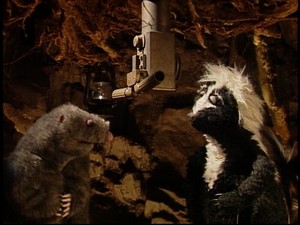 Stinky the Skunk plans on having the shows guest visit his burrow under the studio. However when he discovers that tarantulas are poisonous, he decides not to invite Natasha. Stinkey interviews Morely the Mole in the burrow and they watch the video through a periscope.
Segments
Opening
That's Amazing: The Golden Mole
Guest: Natasha the Tarantula from the rainforests of Venezuela
Baby Talk:
Song: "Everybody's digging it"
Tizzy's Quiz: which of these animals lives in a burrow ?
Yves St. La Roache: how to cook a meal underground
Guest: Morely the Mole
Song: "Live to Dig and Dig to Live"
Animal Awards: the biggest spider
Story: The tarantuala and the coati
Habitat Time: A cave
Tizzy's Quiz: Can moles swim ?
Closing
Performers