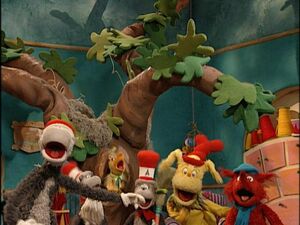 In the very messy Cat's Playhouse, when the Cat in the Hat loses his bow tie, it's cleaning time! That is, if he and the Little Cats ever get around to it… In the Wubbulous World, we meet Matthew Katroom, who battles his messy room. And Yertle the Turtle sells Jane Kangaroo a new kind of mess-free Turtle Tree.
Songs
Video releases
Ad blocker interference detected!
Wikia is a free-to-use site that makes money from advertising. We have a modified experience for viewers using ad blockers

Wikia is not accessible if you've made further modifications. Remove the custom ad blocker rule(s) and the page will load as expected.