Ad blocker interference detected!
Wikia is a free-to-use site that makes money from advertising. We have a modified experience for viewers using ad blockers

Wikia is not accessible if you've made further modifications. Remove the custom ad blocker rule(s) and the page will load as expected.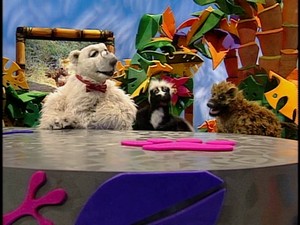 Jake introduces his cousin Bunnie Bear, who will help out on the show. The show will focus on animals that live in family groups.
Segments
Opening
That's Amazing: Chimpanzees and their relatives
Guest: Trudy the Chimpanzee
Baby Talk: Hyena family
Song: "I'm Never Alone"
Tizzy's Quiz: which of these animals lives in groups?
Guest: Lazlo the Hyena
Song: "The Hyena Song"
Animal Awards: The best laugher
Story: The cuckoo rass
Habitat Time: Tiwi island
Tizzy's Quiz: Which of these animals is not an ape?
Closing
Performers
Releases