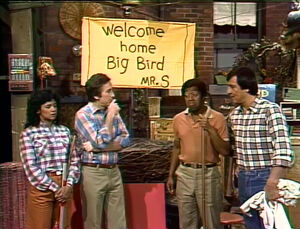 | Picture | Segment | Description |
| --- | --- | --- |
| | SCENE 1 | Everyone begins packing up to go home. Big Bird feels sad that he's leaving, but he's happy that he's going back home to Sesame Street. Mickey tells him it's okay to be both sad and happy, and that it's natural. Then, Aunt May assembles everyone for the Cabin 10 Picture, which isn't easy to have taken. |
| | SCENE 2 | Big BIrd convinces Rusty to come to the awards ceremony. |
| | SCENE 2, cont'd | Big Bird wins the swimming award, and Rusty wins the Good Sport award. |
| | SCENE 3 | Aunt May delivers her final words to the Echo Rockers, who make the Echo Rock handshake one last time. Big Bird sings "Good-Bye, Country" over a montage of his experiences at camp. |
| | SCENE 4 | Back on Sesame Street, Bob and David decide to clean up the nest area and make a welcome home sign. Bob, David, Maria, & Luis show up for the work, but Snuffy already did both things! Naahhh... |
| | SCENE 5 | Big Bird finally says goodbye to his friends from camp. The adults sneak up on him and welcome him home. |
| | SCENE 6 | Back together again, Snuffy knows that the answer from when Big Bird left is 'bus.' |
| | SCENE 7 | Big Bird talks to Snuffy about his days at Camp Echo Rock as Maria mentions the sponsors. The credit crawl follows featuring stills from Big Bird's week at camp. |
All the Street (and Camp) scenes from Episode 1710 are carried over here, and the selection of cartoons/films/inserts is different.