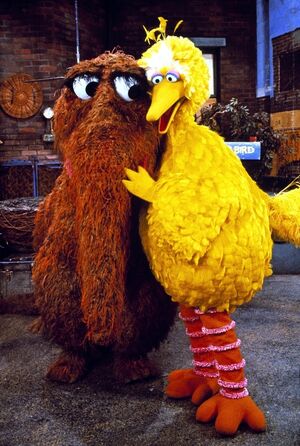 In a story-arc that progresses into next season, some of the adults on Sesame Street finally believe that Big Bird's friend Mr. Snuffleupagus is real.
The episode's plot is covered in an Associated Press story published in October 1984:
"
In the first episode of the new season, Nov. 19, Big Bird will say he's tired of assaults on his credibility. "I know the difference between real and imaginary. Why don't they believe me?" [...]

Three humans in the cast - Maria (Sonia Manzano), Gordon (Roscoe Orman) and Linda (Linda Bove) - will become believers. "Big Bird will no longer be alone," [Norman] Stiles said.

But in the best cliffhanger tradition of Hollywood, the humans won't actually see Snuffleupagus. "Not this season," said Stiles. [1]
"
Notes
Sources
↑ The Milwaukee Journal: Honesty has a friend on 'Sesame Street' - October 28, 1984