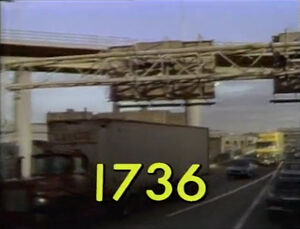 This episode guide is missing segments cut from Noggin's broadcast.
Picture
Segment
Description




SCENE 1
Today, Bob is giving out music lessons to his friends on Sesame Street. First, he checks up on Gordon's flute playing. Whenever he makes a mistake, Oscar, Grundgetta and a couple of other Grouches cheer for more.

Film
"I Can Do It By Myself"/"Inside Out"/"It's Easy"
Films of children trying to put on their clothes.

Cartoon
It's a squirrel
Artist: Ishu Patel

Muppets
Prairie Dawn presents a pageant about feelings. Bert dresses as Cupid to represent love -- but his lines don't ring true. Instead, he sings his own song "That's Love". He sings that to him, love means pigeons, oatmeal -- and Ernie.

SCENE 2
Gordon's slowly improving on his flute playing, much to the disgruntlement of Oscar and the other Grouches. However, they're relieved when Gordon decides to continue the rest of the piece and makes more mistakes.

SCENE 2, cont'd
In his room, Bob gives the Two-Headed Monster a singing lesson: singing "Sing."

Cartoon
A baby climbs up the stairs all by himself.

Film
A voiceover lists many R words.

Muppets
Herry and John-John: Up and Down
(EKA: Episode 0784)

Cartoon
Boy and the UP balloons
(EKA: Episode 0798)

SCENE 3
Telly watches Gordon practice playing his flute and compliments how good he's getting.

SCENE 3, cont'd
Back in Bob's apartment, he is giving Biff and Sully a piano lesson. Biff wants Bob to listen to him play first. He pounds out the notes to London Bridge. He starts off adequately but then goes off key halfway through. All the same, he tells Bob that the piano lesson is for his partner rather than for him, saying that Sully sometimes fools around while playing. Sully proves him wrong, however, by playing a beautiful, full Chopinesque piece. Biff seems oblivious to his obvious gift, though, and asks Bob if he could teach Sully to play like him. Bob says it would be impossible. "There it is, Sul," says Biff. "Some people got talent, some people don't." "You can say that again," Bob says softly to the camera.

Celebrity
Victor Borge talks about practice.
(EKA: Episode 1166)

Cartoon
Sand Z/z

Film
Buffalo in the water (jazz soundtrack)

Cartoon
Madrigal Alphabet
Animation by Jeff Hale
(EKA: Episode 0677)

Muppets
The Count sings about his first day of school.

Cartoon
A woman fixes her car by putting a letter r under the hood, and it goes "Rrrrrrrrrrrrrrrrrrr!"
(EKA: Episode 0411)

SCENE 4
Bob gives Fluffy a trumpet lesson. After which, Fluffy is able to join Herb Elephant and the Yucatán Brass.

Cartoon
Indian guru counts to twenty.
(EKA: Episode 0276)

Cast
Maria as Charlie Chaplin: EXIT
(EKA: Episode 0926)

Muppets
Muppet & Kid Moments: Kermit tells Alphonso what an EXIT is.

Film
EXIT




SCENE 5
Bob and the kids play "Practice, Practice."

Cartoon
Boy learns to play his violin.

Film
Sounds in the House #1
(EKA: Episode 1706)

Cartoon
R is for Rooster, and Robber, and Rake ...
Artist: Fred Calvert
(First: Episode 0011)

Muppets
Ernie and Bert search for Dr. Livingstone in the jungle.

Cartoon
A wizard turns into R things.
(EKA: Episode 1015)




SCENE 6
Gordon finally plays the flute for Bob without making any mistakes. The Grouches disapprove.

Cartoon
Nine Striped Cats
Owe Gustafson

Muppets
A cowboy hears his echo in Spanish for the numbers one to ten.
(EKA: Episode 0815)

Cartoon
What if we celebrate Valentine's Day with chickens instead of hearts?
(EKA: Episode 0815)

Film
Saxophone Factory
(EKA: Episode 1446)

Cartoon
Song: Serving Dinner for Nine Tonight
Artist: Paul Fierlinger

Cartoon
Rectangle transition
(EKA: Episode 0592)




SCENE 7
Bob is finished with music lessons for today but Oscar wants him to give Slimey his music lesson for playing his sousaphone. Slimey plays the Sesame Street theme as Grundgetta lists the sponsors.




CLOSING SIGNS
Kermit and a kid hold up the Sesame Street sign, while Maria holds up the CTW sign at the end
Ad blocker interference detected!
Wikia is a free-to-use site that makes money from advertising. We have a modified experience for viewers using ad blockers

Wikia is not accessible if you've made further modifications. Remove the custom ad blocker rule(s) and the page will load as expected.